Ezra Miller Joins Mia Wasikowska For Madame Bovary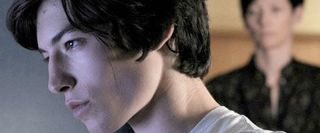 Ezra Miller chilled audiences last year as the stoic serial killer at the center of Lynne Ramsay's remarkable We Need to Talk About Kevin. While much of the acclaim for the disconcerting drama went to Tilda Swinton, who nimbly and fearlessly played a mother with a potentially damning disconnect to her first born, Miller managed to grab some notice not only for being able to add a frightening depth to the teenaged Kevin, but also for being able to hold his own against Swinton onscreen.
Next up from Miller is The Perks of Being a Wallflower, an adaptation written and directed by Stephen Chbosky, the author of the beloved YA book. There, Miller takes on a major departure from Kevin to play Patrick, a caring senior who befriends the story's perplexed freshman protagonist. However, with his next venture, Miller will put even more welcomed distance between himself and the role that threatens to define him.
Variety reports that Miller has signed on to Sophie Barthes' Madame Bovary adaptation, which already boasts Jane Eyre's Mia Wasikowska and the great Paul Giamatti as cast members. Penned by Rose Barreneche, the drama will unfold the tragic tale as a period piece with a more modern mentality. Wasikowska is set to play the eponymous Emma who marries a sweet but naïve man to escape the squalor of his family farm. But once among the elegance of high society, she seeks new and more scintillating company. Giamatti will portray Monsieur Homais, the local apothecary, and friend of Mr. Bovary, while Miller will play one of Madame Bovary's lovers.
While the trade doesn't name names specifically, it seems more likely that Miller—with his boyish good looks, would be better suited to the role of Léon Dupuis, the flirtatious law student that first tempts Emma, than Rodolphe Boulanger, the debonair landowner who strings her along for years in a heated affair. It's a shrewd move on Miller's part, being a role that could help him make that tricky transition from teen parts to adult roles. Beyond that, Barthes has shown to be a moody and spirited filmmaker with her Paul Giamatti-fronted and centered debut Cold Souls, so she seems a great filmmaker to which to hitch his apple wagon.
Madame Bovary will shoot in Europe this fall; The Perks of Being a Wallflower opens September 20th.
Staff writer at CinemaBlend.
Your Daily Blend of Entertainment News
Thank you for signing up to CinemaBlend. You will receive a verification email shortly.
There was a problem. Please refresh the page and try again.