Fantastic Four Films Fade From Fox's View, Find Out Why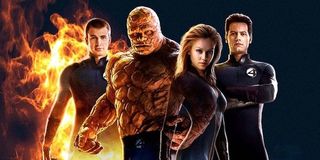 If you're looking to brush up on the cinematic side of the franchise before Josh Trank's Fantastic Four hits theaters later this summer, you're going to have to put a little more effort into it than usual. Fox has pulled the last two films from digital platforms in preparation for the August release of the new film.
According to The Hollywood Reporter, 2005's The Fantastic Four and the sequel, 2007's Fantastic Four: Rise of the Silver Surfer have both been removed from iTunes and Amazon. Should you look for them, both are listed as "currently unavailable" on those services.
The trade's source says this move was made so as not to distract from the marketing push for the upcoming reboot, and so that there is no marketplace confusion should you expect to see Jessica Alba as the Invisible Woman and get Kate Mara instead. It does, however, sound like the earlier titles may, and likely will, be made available once again after the new film hits theaters. But for now you'll have to make due with an actual physical Blu-ray or DVD, or catch them on the TV where they will likely be playing round the clock once we get closer to the release.
More than anything, this strategy just drives home the fact that Fantastic Four aims to be something new, different, and, most importantly, separate from the earlier films. Those films starred Ioan Gruffudd, Jessica Alba, Michael Chiklis, and Chris Evans as the titular team, roles taken over by Miles Teller, Kate Mara, Jamie Bell, and Michael B. Jordan this time around. From what we've seen, the tone is certainly very different in the new version of the familiar story, eschewing the more comic book-y feel for a darker, grittier aesthetic. There's a lot of doom and gloom in this new movie, and things look grim.
Fantastic Four is the latest reimagining of Marvel's oldest team of superheroes. When four young explorers/scientists teleport to an alternate universe, they come back with drastically altered physical forms, and superpowers. One can stretch his body, one can turn invisible, another can light himself on fire and fly, and the last one becomes a giant rock monster. Not only do they have to come to terms with these new changes in their lifestyle, which you can imagine comes one hell of a shock, they also have to band together in order to save the world from a former friend who becomes their adversary. That also sounds like it sucks.
Despite rumors of trouble on the set, specifically issues with Josh Trank—some have even said that another director was brought in for reshoots, though those reports have been denied—Fox still has high hopes Fantastic Four. The movie doesn't even open until August 7, but they've already penciled in a sequel for June 9, 2017, so they must like what they see, or at least think fans will.
Your Daily Blend of Entertainment News
Thank you for signing up to CinemaBlend. You will receive a verification email shortly.
There was a problem. Please refresh the page and try again.