The Fantastic Four Superhero Costumes Are Going In A Different Direction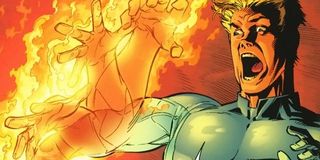 Michael B. Jordan has admitted that, along with pretty much everything else in Josh Trank's upcoming Fantastic Four reboot, the costumes are going to be pretty different. Jordan will play Johnny Storm/The Human Torch in the already divisive superhero blockbuster, and, without going into too much detail, he has now explained that the attire he will wear alongside Miles Teller's Mister Fantastic, Kate Mara's Invisible Woman, and Jamie Bell's The Thing is a fresh take on the costumes we're used to seeing the characters in.
During his discussion with Wonderwall, Jordan was asked how he felt about wearing a spandex costume, which then inspired him to provide details of what he'll be wearing. "How did I feel about wearing spandex?" he responded, "The costume part wasn't that bad. I think we did a really good job at making it modern, new, fresh without going to the cheesy superhero outfits. We didn't take the easy way out at all. So I didn't mind it so much."
While Jordan's remarks are hardly that controversial or outlandish, they will probably add to the sense of growing dread that Fantastic Four die-hards currently have over the upcoming reboot of Tim Story's heavily maligned 2005 and 2007 efforts.Fan worries have grown thanks to a number of elements, which started with the casting of Jordan as the Human Torch, was then exacerbated by Jamie Bell's appointment as The Thing, and has been added to by writer Simon Kinberg's remarks that the film isn't based on a single issue of the comic books. There have also been a few other issues that the internet has taken umbrage with.
The fact that both Jordan and Bell are two of the most exciting young actors in Hollywood and Kinberg has just made arguably the best superhero movie ever in the shape of X-Men: Days Of Future Past doesn't seem to mean squat to the naysayers, though, who are almost perversely loyal to the comic and its history. Surely nothing can be said until we actually see a clip from the film too. And even then we'll need to wait until the full-feature is released before we can pass final judgement! Or is that just me being naïve?
Meanwhile, in the same interview, Jordan also revealed that he had received some advice from Chris Evans, who previously played the Human Torch in 2005's Fantastic Four and Fantastic Four: Rise Of The Silver Surfer, opposite Ioan Gruffudd's Reed Richards, Jessica Alba's Susan Storm and Michael Chiklis' Ben Grimm. Evans explained to his replacement that he should just enjoy being apart of the blockbuster, and not over-think the role. Of course, Evans knows a thing or two about starring in comic-book adaptations, because he has most recently played Captain America in Captain America: The First Avenger, The Avengers, Captain America: The Winter Soldier, and he'll also portray him in Joss Whedon's upcoming sequel, Avengers: Age Of Ultron.
"It's so hard to give advice when it comes to a role like this because at the end of the day, we all do what we do," Jordan noted. "He is great at what he does as an actor. It's not something to imitate. You just have to give your own take. He told me, 'I think you're going to do a great job. Go out there and just have fun.' That's the approach that I took: Just enjoy it and have a good time. Don't overthink it."
Hopefully some of the early critics of The Fantastic Four will take heed of Evans' advice, too. I doubt it though.
Your Daily Blend of Entertainment News