How Vin Diesel Honored Paul Walker On The Anniversary Of His Death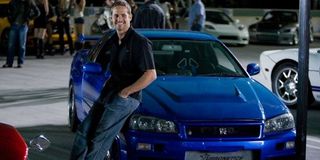 Paul Walker's sudden death on November 30, 2013, shook the world. Now, one year from his passing, his Fast & Furious co-star Vin Diesel has taken to Facebook to upload an emotional and heartfelt message to commemorate his fallen brother.
Alongside an image of Paul Walker and Vin Diesel's daughter, Hania Riley, who was actually born during the filming of Fast & Furious, the actor laid out his thoughts for all the world to admire. You can read them below.
Post by Vin Diesel.
Paul Walker starred alongside Vin Diesel in numerous installments of the hugely popular Fast & Furious franchise. And Paul Walker was even filming scenes as Brian O'Conner for the seventh installment to the series, Furious 7, at the time of his death. Before then Paul Walker and Vin Diesel had shared scenes in 2001's The Fast and the Furious, its follow-up, 2003's 2 Fast 2 Furious, Fast & Furious, Fast Five and Fast & Furious 6 too. It's clear from Vin Diesel's sentiments that the duo built up a lasting bond and friendship that has only increased because of Walker's passing.
Vin Diesel wasn't the only member of the Fast & Furious fraternity to honor Paul Walker on his death. Michelle Rodriguez, who stars as Leticia Ortiz in the franchise, uploaded a passionate and stirring tribute to Paul Walker via her Twitter page.
She was joined by Tyrese Gibson who celebrated the life of Paul William Walker by uploading a rather delightful image of the duo to his Facebook page. Paul Walker's humungous grin is front and centre in the post, while Tyrese Gibson, who has starred as Roman Pearce in four installments to the Fast & Furious series, also wrote a loving eulogy for Paul Walker too.
Post by Tyrese Gibson.
Paul Walker died on November 30, 2013, alongside his close-friend, Roger Rodas, when their car crashed in to a concrete light pole and two trees in Valencia, California. The automobile then burst into flames. Police later confirmed that Rodas was driving the car, and the duo were on their way to an event that Paul Walker's charity, Reach Out Worldwide, had organized for victims of Typhoon Haiyan. Paul Walker's final film, Furious 7, will be released on April 3, 2015.
Your Daily Blend of Entertainment News
Thank you for signing up to CinemaBlend. You will receive a verification email shortly.
There was a problem. Please refresh the page and try again.