Jason Statham To Return For The Mechanic 2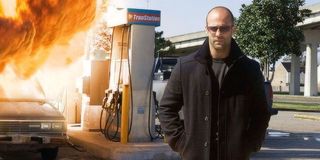 There is nothing in cinema more reliable than Jason Statham - which is a nice way of saying the action star makes the same movie over and over again. But who cares as long as it's full of clear, concise, well-shot R-rated action? Statham doesn't fool around with the formula, which is what made 2011's The Mechanic so enjoyable for his hardcore fans, and so inoffensively skippable to those who have grown tired of the formula. This was Statham's first collaboration with director Simon West (Con Air), with West getting along so well with Statham and the producers at Nu Image that he was recruited afterwards for The Expendables 2.
The Mechanic, where Statham played a covert assassin, wasn't even one of Statham's most successful films - it didn't crack $30 million domestically, and overseas it collected only $21 million - but, still, it was apparently enough: THR reports that one of the projects seeking financing at the European Film Market is The Mechanic 2, which is set to be directed by Dennis Gansel. Nu Image is once again behind this effort, with Statham returning to the role that made him… uh… stay just as famous as he's always been.
For anyone who has seen the first film but has difficulty remembering exactly what happened, it served as a remake to the 1972 Charles Bronson film of the same name. That picture, directed by Michael Winner, was a far superior movie, featuring a compelling central conflict between Bronson and eager young protégé Jan-Michael Vincent, and it has one of the genre's all-time great endings. The remake was a noticeably cruder vehicle, memorably cheaping out on that famous ending in a way that only a contemporary remake could, but it featured several bone-rattling brawls and a fun dynamic between Statham and Ben Foster.
Gansel has apparently been sought by studios for years, though he enjoyed the freedom that came from making genre films in his native Germany. What made him resist overtures for years only to acquiesce for a Jason Statham movie no one wanted is unknown. Nu Image must have a good dental plan. As for Statham, his starring vehicles have diminished in popularity for years. The star followed The Mechanic with Killer Elite, Safe, Parker, Redemption and Homefront, all of which made $25 million or less at the American box office. He has primo supporting roles in the next Fast And Furious, The Expendables 3 and the Melissa McCarthy vehicle Susan Cooper, but THR's mention of Statham's "loyal global home video fan base" delicately suggests that The Mechanic 2 might end up going straight to DVD. It's happened to Statham before, but only usually after a theatrical distributor could not be found. Could this be Statham's first intentional DVD exclusive?
Your Daily Blend of Entertainment News