Fast And Furious Director Justin Lin Really Has Talked To Schwarzenegger About A Terminator Movie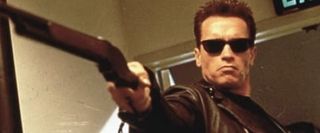 Pretty much the minute Arnold Schwarzenegger left office as the Governor of California earlier this year, he started threatening not just to return to acting, but to produce and star in remakes of all the movies you loved him for to begin with; back in March he promised, in a single sentence, plans to remake The Running Man, Predator and yes, even The Terminator.
At some point down the line the rumor developed to include Justin Lin, the Fast and the Furious franchise director who apparently might be willing to tread on the ground that McG pretty thoroughly destroyed with Terminator: Salvation. And believe it or not, that rumor is actually true. Omelete (via their English-language partners Collider) spoke to Lin at the Brazil junket for Fast Five, and he acknowledged that he's had conversations with Schwarzenegger about reviving the Terminator, and might be willing to consider taking it on:
Between this and the godawful Governator nonsense, I find myself wishing Schwarzenegger had somehow found a way to stay in office after all. It's not even that I think Lin would do a bad job with a Terminator movie-- he proved in the paintball episode of Community if nothing else that his action skills are unparalleled-- but that I wish Schwarzenegger would stop meddling with the pop culture that was good once, but doesn't need to be rehashed constantly now that he's free to act again. Anybody else want to stick their head in a lake until this goes away?
Your Daily Blend of Entertainment News
Staff Writer at CinemaBlend