The Fast & Furious Franchise Is Getting The Ultimate Fan Experience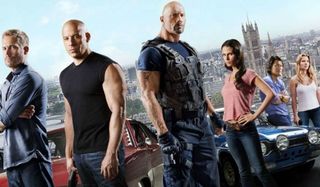 Great news for all you Fast & Furious nuts out there, an amusement park ride that is inspired by the franchise is coming. Universal Studios Hollywood unveiled the ride to the world during the Super Bowl on Sunday with a 30-second spot. You can check out the teaser below.
It looks pretty sweet! Unfortunately for you all Fast & Furious die-hards, I'm pretty sure that you won't get to actually sit next to either Vin Diesel or Dwayne "The Rock" Johnson when you go on the ride. Fast & Furious Supercharged will be opened at Universal Studios Hollywood in the summer, and, according to NBC, the high octane ride is the "new grand finale to the world famous Studio Tour."
But what will the experience actually entail? Well, Fast & Furious Supercharged has been described as a brand new installment to the long-running big screen action series. Once the ride begins, it will instantly propel visitors into the Fast & Furious universe, and its narrative will revolve around an attempt to save one of their gang from an international posse of criminals. Guests will be joined by Vin Diesel's Dominic Dom Toretto, Michelle Rodriguez's Letty Ortiz, Dwayne The Rock Johnson's Luke Hobbs, Tyrese Gibson's Roman Pearce and Luke Evans' Owen Shaw, each of whom have recorded new content exclusively for the ride.
The ride will also incorporate various cars that have appeared throughout the Fast & Furious franchise, and it will conclude with an audacious action scene that will see the guests furiously moving through the streets of Los Angeles at speeds of around 120 miles per hour. Fast & Furious Supercharged will be preceded by the release of Furious 7, which will hit cinemas on April 3, 2015 - though at this time it is unclear how or if the ride will have narrative connections to the James Wan-directed sequel.
Last night, of course, was a rather huge night for the Fast & Furious franchise, as we not only got to get our first look at the brand new Universal Studios Hollywood ride, but also a brand new, completely insane new TV spot for the aforementioned Furious 7. The movie looks like it will be taking the series to another level, with Jason Statham making his debut in the franchise alongside the likes of Vin Diesel, Dwayne Johnson, Michelle Rodriguez, Ludacris and Paul Walker - whose untimely passing halfway through filming has surrounded the upcoming sequel in an aura of sadness. To check out the special Super Bowl spot, head over to Page Two.
Your Daily Blend of Entertainment News