When The Fast & Furious Franchise Might End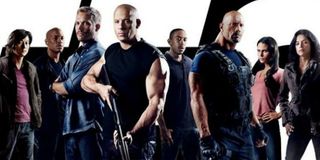 "I don't have friends," Vin Diesel explains in the explosive trailer for Furious 7. "I got family." And one member of that extended Fast & Furious family has to be director Justin Lin, who helped usher the series into its current golden age before moving on to greener pastures. But could Lin be lured back to the Furious table, possibly to bring closure to the high-octane series?
This is the rumor being floated over at Deadline, where Mike Fleming reports that Universal might want Justin Lin to return to the Fast & Furious franchise in order to "wave the checkered flag" on the long-running series. Lin started directing Fast films back with the third chapter, Tokyo Drift. He endured the muddy, lackluster fourth installment, Fast & Furious before breathing hellfire into the series with Fast Five and Fast & Furious 6. But Justin Lin handed the reigns to The Conjuring filmmaker James Wan for Furious 7 -- a sequel that has been plagued by a serious of horrific obstacles, including the death of Paul Walker.
The series appears to be back on track now, obviously, and Universal is gearing up for the April release of Furious 7. A while back, this movie was expected to be the start of a new trilogy of films, a storyline Vin Diesel and Paul Walker could milk for as long as their fans allowed. Now, however, we were all wondering if – in the wake of Walker's passing -- Furious 7 would be the last go-round for this cast. Heck, Dom calls it "one last ride" at the 1:52 mark of this tremendous teaser trailer:
But will it be? Given the amount of interest swirling around Furious 7 -- and the heat on the Fast & Furious series in general – we assume that James Wan's movie is going to make boat loads of cash next year. We don't yet know how the series will "retire" Paul Walker's character, but it will be interesting to see if the door is left open for more Fast stories after Furious 7.
If they do extend the brand, and decide to give the series one more movie, it makes total sense to bring Justin Lin back for the last film. And the pieces sort of moved into place. James Wan already has agreed to go back to horror, where he'll direct The Conjuring 2. And while Lin has agreed to helm the first two episodes of the second season of HBO's True Detective, he could shift to a final Fast & Furious after that. Right now, it's a rumor. But it makes all the sense in the world.
Movie junkie. Infatuated with comic-book films. ReelBlend cohost. Resident dad. Extroverted introvert. Wants to see the Snyder Cut. Managing Director at CinemaBlend.