Father Of The Bride Reunion Movie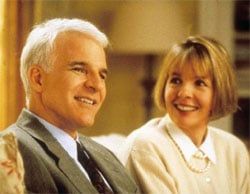 Paramount Pictures is planning to reunite Steve Martin and Diane Keaton for the first time since they played husband and wife in the Father of the Bride series. Unfortunately for those of you hoping for a Father of the Bride 3, this isn't it.
Variety says the duo will co-star in a movie called One Big Happy, from Party of Five creators Chris Keyser and Amy Lippman. It may not actually be Father of the Bride 3, but from the way they describe it, One Big Happy could be a pretty good substitute. Variety's vague description of the project goes like this: It's, "a family comedy about a couple and a family reconnecting amid various obstacles." That could easily be the plot of Father of the Bride 3, or for that matter a sequel to any of the many inferior family movies Steve Martin has done since.
Now I'm getting depressed. I really liked the Father of the Bride movies, they did sappy better than most, and I really liked Steve Martin once upon a time. Sadly I haven't liked Steve since Father of the Bride 2 way back in 1995. If you look at his filmography, it's been nothing but crap since Martin Short stopped playing Franc. I miss the old, fatherly Steve and his super-hot, pre-Belushi daughter.
Your Daily Blend of Entertainment News
Thank you for signing up to CinemaBlend. You will receive a verification email shortly.
There was a problem. Please refresh the page and try again.