The Fear Monger: ABCs Of Death 2, Spring And Asmodexia Unleash Extremely Gross Trailers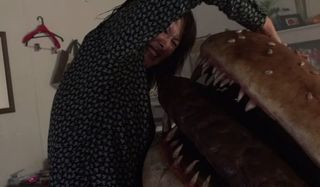 Good day, buriers of all things beyond repair. I'd ask if any of you guys watched anything good in theaters this weekend, but I'm not sure anybody reading this was one of the 18 people who actually watched a movie outside of their home. The only horror making its way to the big screen was Casey La Scala's end-of-days thriller The Remaining, which began its limited run.
As far as smaller news goes, Relativity Media has dropped seven figures on The Woman in Black 2 from director Tom Harper. The highly acclaimed mockumentary What We Do in the Shadows, with Flight of the Conchords star Jemaine Clement, has been picked up for U.S. distribution by The Orchard, Unison Films and Funny or Die. And Douglas Booth (Noah) has joined the long-time-coming Pride and Prejudice and Zombies.
And now, let me tell you a story about a thing named Zorb.
The ABCs of Death Bleeds Out Two New Trailers
You make a movie with 26 different directors telling 26 different stories, quality issues are going to come up. The anthology film The ABCs of Death contained some of the most disturbingly awesome short films ever to get a major release, but it also contained some of the most mindless fluff I've ever seen. As such, I cannot wait to see the upcoming sequel from Magnet Releasing and Drafthouse Films. The majority of the filmmakers lined up for this pic are pretty stellar, though there are a few whose work I haven't been lucky enough to see yet. For what it's worth, everything in the green band trailer seen above and the red band trailer below looks as compelling as I would have hoped. Here, take the time to watch the bloodier trailer below, complete with giant fake penis.
From the botched beheading to that girl getting eaten by a giant hamburger, these trailers look absolutely fucking bonkers. Killer monkeys? Dizzy Frankenstein monsters? Porno snuff? This is just like my wedding video. Notable directors showcasing their talents here include E.L. Katz (Cheap Thrills), animator Bill Plympton (The Tune), Julian Barratt (The Mighty Boosh), Larry Fessenden (Wendigo), Vincenzo Natali (Cube), and sisters Jen and Sylvia Soska (American Mary). The ABCs of Death 2 is set to hit VOD on October 2, and look out for its limited theatrical run starting October 31.
First Look at The Town That Dreaded Sundown
Are you ready for the next great slasher flick? We're hoping it's the upcoming Blumhouse production The Town That Dreaded Sundown, a half-remake/half-sequel of Charles B. Pierce's underseen 1976 thriller. The talented American Horror Story and Glee director Alfonso Gomez-Rejon is taking the reins on this version, which takes place in a world where the original film exists, and Texarkana finds itself the victim of the Phantom Killer once more. But who's doing it? Someone trying to copy the original film, or just your average copycat killer? Only a high school girl named Jami (Addison Timlin) can figure it out.
It all looks the same to us, now that the film's first handful of images have been released. (Not that we're complaining.) Lots of grass, lots of darkness and lots of bag on the killer's head. With a cast that also includes Gary Cole, Denis O'Hare, Edward Hermann, Joshua Leonard, Veronica Cartwright and Travis Tope, The Town That Dreaded Sundown could be one of the most interesting horrors to come out this year. We just have to make sure enough people go and see it first. Take a look at another still below.
The Town That Dreaded Sundown is set to make its world premiere at this year's London Film Festival on October 14, with a U.S. release hopefully coming soon after.
TIFF Selection 'Spring' Births a Trailer Full of Creepiness
So, this movie Spring…I don't quite know what to make of it – but that's only making me more excited. The trailer above, tying into the film's recent TIFF premiere, is one hell of a head trip, mixing an indie romance with some sci-fi creature feature twists. Lead character Evan (Lou Taylor Pucci) is a man in dire straits personally, so he relocates to Italy, where he falls for a girl (Nadia Hilker) with a secret that no one could ever imagine. Gross mutant-looking things are involved.
Spring comes to us from Justin Benson and Aaron Moorhead, the guys behind the excellent 2012 mystery thriller Resolution, and also one of the segments from V/H/S: Viral. They've created what looks like a much larger horror than the budget might have you think. There are some gorgeous location shots in this trailer, and the gore and effects look like they're a cut above your average flick's effects as well. And while we don't necessarily see Evan do anything amazing, the fact that he beats up a random dude in this trailer means he probably isn't so generic a character and that his emotional problems will be a major issue. The film doesn't yet have a domestic distributor, but we're hoping one grows legs and snatches Spring up soon.
Burying the Ex Clip Is Neck-Breakingly Uncomfortable
While we calmly wait and see if anything ever happens to the proposed return to Gremlins, director Joe Dante is ready to unleash his latest film on the world, the romantic zombie comedy Burying the Ex. With movies like Warm Bodies and Life After Beth as recent examples of this burgeoning sub-sub-genre, one has to wonder how many stories can be told within this plotline. Regardless, I'd watch Dante take on any genre and/or franchise under the sun.
In the clip seen above, Anton Yelchin (one of my favorite young Hollywood actors) is playing the dismayed Max, who thinks his romantic life is finally in the clear when his overbearing girlfriend Evelyn (Ashley Greene) gets into an accident and dies. Max discovers feelings for a new girl named Olivia (Alexandra Daddario), but soon has to once again put up with Evelyn, who has left her grave, dead-set on getting Max back into her life. Broken neck? That's not gonna stop her. Max's obvious disdain that she is there and licking his neck? Also not going to stop her. Find out what does when Burying the Ex hits theaters and VOD…whenever. The film recently debuted at the Venice Film Festival, but hasn't yet found domestic distribution.
Asmodexia Trailer Is Far More Possessive Than Your Average Demon Flick
I've said it here before and I'll continue to think it until the end of time: it's really hard to make a demonic possession movie interesting these days, with everything taking inspiration from The Exorcist rather than developing a different point of view from which the story can be told. And here comes director Marc Carreté's debut, the horrific-looking Spanish thriller Asmodexia, which will hopefully add a little spice into a sub-genre that last found a home in the States with Scott Derrickson's Deliver Us from Evil.
In the film, Luís Marco plays an exorcist named Elroy de Palma, who goes on a quest with his granddaughter Alba (Clàudia Pons) to exorcise the demons possessing those in the community around them. Meanwhile, they're being hounded by a cult that the grandfather once led. Okay, so it doesn't sound like the most inventive exorcism thriller, but the trailer certainly makes it look that way, often trading in pitch black visuals for sunny exteriors, only to surprise viewers with gross ass possessed people in the next second. The last 45 seconds of the trailer get even more intense and bloody, pushing me even further into this film's corner. Join me on September 26th, when IFC Midnight will be releasing the film in theaters and on VOD. Bring your own holy water.
Nick is a Cajun Country native, and is often asked why he doesn't sound like that's the case. His love for his wife and daughters is almost equaled by his love of gasp-for-breath laughter and gasp-for-breath horror. A lifetime spent in the vicinity of a television screen led to his current dream job, as well as his knowledge of too many TV themes and ad jingles.
Your Daily Blend of Entertainment News
Thank you for signing up to CinemaBlend. You will receive a verification email shortly.
There was a problem. Please refresh the page and try again.