The Female 21 Jump Street Spinoff Just Took A Creative Turn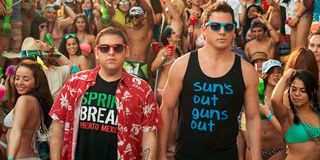 Quickly following in the footsteps of Ghostbusters, the rebooted 21 Jump Street is getting a fresh female-centric spinoff as well. Things appeared to be rolling right along, but now a pair of hilarious sisters has been brought in to write what will be a competing script.
According to The Hollywood Reporter, sibling writers Lizzie and Wendy Molyneux, who work on Fox's animated comedy Bob's Burgers, have been commissioned to pen a script for the new 21 Jump Street offshoot. That doesn't sound like huge news, writers get hired to write things all the time oddly enough, but the spin here is that they're not the first scribes to land this job.
In addition to the Molyneux sisters, Sony has already hired the duo of Lucia Aniello and Paul W. Downs, who have worked on Comedy Central's fantastic, deserving of all the hype it gets Broad City. Apparently, however, the studio also dug the pitch they got from the sisters, so now as they move forward, both teams will write their own distinct script and, presumably, the execs at Sony will pick the best one. Or maybe they'll hire yet a third set of writers to create some sort of unholy hybrid of the two like some sort of mad script scientist.
In addition to their work on Bob's Burgers, which was renewed for a fifth season earlier this year, the Molyneux sisters have also penned a script for DreamWorks Animation called Hot Stuff, and back in 2009, one entitled My Sister is a Douchebag wound up on the Black List, an annual collection of the best, as-yet-unproduced scripts floating around Hollywood.
Wendy also recently made the news cycle by raising more than $30,000 for charity with an ingenious strategy. She started a crowdsourcing campaign with a goal of drumming up $10,000, and if she hit that goal, which she obviously did, she would go see the new Entourage movie, which she despised when it was a series on HBO, in the theater. If you're going to sit through a movie that you already know you're not going to like, it might as well be for a good cause.
I don't know that anyone expected the Channing Tatum and Jonah Hill-starring 21 Jump Street to be either as good as it was or make as much money as it did, or for the sequel, 22 Jump Street, to be even more successful (together they've grossed more than $500 million dollars), but Sony is certainly going to ride that wave a long and as far as they can. In addition to the female-centered spinoff, the studio also has 23 Jump Street, another Tatum-Hill team up, in the works, so we'll be seeing a lot from this world in the future.
Your Daily Blend of Entertainment News