21 Jump Street Is Getting A Female Adaptation Too, Get The Details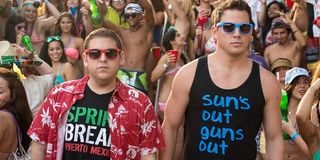 It appears that Ghostbusters won't be the only popular property from the 1980's getting a gender-adjusted adaptation. 21 Jump Street, the recently reinvented TV-police-drama-turned-comedy-film starring Channing Tatum and Jonah Hill, could see yet another cinematic iteration with a spinoff of the current series centering on a cast of female characters. Just to get a bad joke out of the way…could we be getting 21 Jill Street?
According to report from The Tracking Board, Sony Pictures is looking to parlay the recent success of the 21 Jump Street films by expanding its comedic breadth to access a more female-friendly demographic. The studio has reportedly tapped writers from TV's Broad City, Lucia Aniello and Paul Downs, to pen the script of the potential estrogen-injected expansion.
Undoubtedly, this will evoke immediate comparisons to the upcoming all-female reboot of Ghostbusters directed by Paul Feig. Featuring an impressive array of comedic talent, headlined by Kristen Wiig and Melissa McCarthy, that project seems to be working off the basic framework of the original 1984 film, obviously altered to reflect the nuances of the cast and timely sensibilities. However, it was announced that it might serve as a launching point for an expanding franchise that could see a complementary all-male cast reboot of Ghostbusters. Coincidentally enough, that film is said to be courting Jump Street co-star Channing Tatum, and even Guardians of the Galaxy's Chris Pratt. Likewise, the prospective spinoff of Jump Street seems to be corralling talent in the pair of Broad City scribes who can create hilarious content for a yet-to-be-named female cast.
With the performance of last year's 22 Jump Street, which earned $331 million and out-grossed its 2011 predecessor by almost $130 million, the series will have no shortage of support as what could be known as the "flagship" film series readies its third entry, 23 Jump Street. While the release date of the confirmed threequel has yet to be determined, it could be the case that the film provides the potential spinoff film with its actual spinoff moment by featuring the new female characters. However, it could also be the case that the project is still too far away from development. If, indeed, it will utilize the Ghostbusters series' sex-swapping system, the prudent approach might be to wait and see how that controversial all female reboot pans out next year. Worst case scenario, the spinoff never happens, but 23 Jump Street winds up with some hopefully memorable female characters in the cast.
It will be interesting to see how this project takes shape, or if it even happens. What does seem clear is that the success of Paul Feig's Bridesmaids in 2011 proved more of a watershed moment than was initially thought. That film successfully demonstrated the universal nature of comedic premises, utilizing a large ensemble cast formula that worked well in The Hangover and applied it to female talent. Now, with Feig's Ghostbusters set to hit theaters on July 22, 2016, we could be looking at a burgeoning trend in which studios regularly parlay a property's success with a gender-swapped doppelganger. In that sense, Hollywood's rampant reboot culture doesn't seem to be fading anytime soon.
Your Daily Blend of Entertainment News
Thank you for signing up to CinemaBlend. You will receive a verification email shortly.
There was a problem. Please refresh the page and try again.