Entourage Contest Somehow Benefits Cancer Research While Punishing A Non-Fan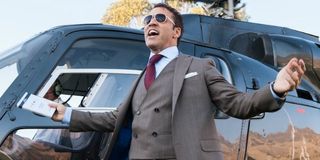 You either love Entourage or you hate Entourage. It doesn't seem like there's an inbetween, and Wendy Molyneux Drake hates Entourage. Aside from pediatric cancer, it's the thing she hates most in the world. (Her words, not ours!) But she's willing to set aside her intense disdain for the movie version of the HBO series for a good cause.
Drake, who's a writer for the show Bob's Burgers, started a GoFundMe campaign that gives us all the power to force her to go see the Entourage movie. All you have to do is donate money. If Drake reaches her goal of $10,000, then she'll bite her tongue and purchase a movie ticket. As an added incentive, all the money donated will go to CureSearch, a nonprofit dedicated to children's cancer research. So support cancer research and force someone who really hates Vincent Chase, Ari Gold, Eric Murphy, Turtle and Johnny "Drama" Chase to go watch their movie. It's a win-win!
You can just feel the hate wafting off of her words.
If you donate anywhere between $5 and $101 -- that's D-Bag Level to E Level -- you'll receive a photo of Drake watching the Entourage movie, as well as a written review of the film, which hopefully will be dripping with sarcasm. If you donate at least $150, you can go see Entourage with Drake and her husband. Then there's Cake Level, which means Drake will bake you a cake to enjoy during the movie, and Ultimate Turtle, which means you'll get either a picture of Turtle or a turtle signed by Drake. It's important to note that even if the donations total up to $9,999, Drake will not go see Entourage. So start donating as much as you can if you want to make this happen.
The Entourage movie brings back series creator Doug Ellin and his stars Jeremy Piven, Adrian Grenier, Kevin Connolly, Kevin Dillon and Jerry Ferrara for a big-screen outing. Ari is now a Hollywood studio executive and he wants Vincent to star in his first movie project. The only thing is that Vincent also wants to direct. If this thing fails, Ari's stock in the industry will plummet and Vincent's career will be dead. That means lots of tantrums are on the way. There's also a lengthy list of celebrity appearances, including Mark Wahlberg, Gina Carano, Tom Brady, Billy Bob Thornton, T.I., George Takei, Pharell Williams, Kelsey Grammer, Ed O'Neill and Bob Saget.
Entourage will go wide in theaters on June 3, so all you haters, like Drake, better brace yourself for the expected depravity.
Your Daily Blend of Entertainment News
Your Daily Blend of Entertainment News
Thank you for signing up to CinemaBlend. You will receive a verification email shortly.
There was a problem. Please refresh the page and try again.