Fifth Bourne Movie Gets Summer 2015 Release Date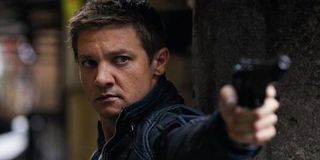 Mark your calendars because the continuation of the Bourne franchise will hit theaters on August 14th, 2015. This unnamed fifth installment will not follow the story of the titular Robert Ludlum hero Jason Bourne. Instead it will track the growing narrative of Bourne colleague Aaron Cross, who was introduced in the film series' last entry, The Bourne Legacy. While reporting Bourne 5's release date, Deadline confirmed that Jeremy Renner would reprise the role of Cross, and Justin Lin, best known for making Fast & Furious a world-dominating action franchise, will helm.
Reports of a sequel to The Bourne Legacy surfaced a nearly a year after it opened in August of 2012. Typically, when an action movie does well--or is even suspected to--studios get to work on lining up a sequel as soon as humanly possible, all the better to cash in on fan enthusiasm. But even with the star power of Renner behind it, The Bourne Legacy underperformed at the box office, making Universal cautious. Still, its failure is a matter of perspective.
The $125 million movie made $113 domestic and another $162 million internationally. $276 million is nothing to sniff at, but the profits here paled in comparison to the Damon-fronted Bourne trilogy of The Bourne Identity ($60 mil to make, $214 mil worldwide), The Bourne Supremacy ($75 mil to make, $288 mil worldwide), and The Bourne Ultimatum ($110 mil to make, $442 mil worldwide). See, Universal continued the pattern of upping the cost of production. But without the star they'd built this Bourne empire on, the fourth feature faltered. Still, it seems the studio is not ready to give up on the saga of ex-assassin Cross. Though I'd be willing to bet this project will be boasting a much leaner budget than its immediate predecessor.
Last August Universal ditched Tony Gilroy--writer of all four of the Bourne movies thus far--and lined up Anthony Peckham, who penned Guy Ritchie's Sherlock Holmes, to draft the screenplay for this unnamed Bourne 5. Whether this picture might serve as a possible Cross/Bourne crossover has been a matter of speculation, but not one with much substance. No mention of Damon is made in the latest Deadline report, and in late August Universal denied outright that either Damon or Paul Greengrass, who helmed The Bourne Supremacy and The Bourne Ultimatum, would be on board. Then just last month, came news that Lin would be helming Bourne 5, which is frankly a brilliant move on Universal's part.
Lin took the languishing Fast & Furious franchise and built it into something that appealed to multiple demographics, eager to see its movies in theaters. He created a complex saga for the cast of car thieves that made revisiting past films a part of the joy of watching new releases. He cut the drama with a knowing brand of humor. He treated the franchise as a source of spectacle on several fronts, giving over tons of mind-blowing stunts for action junkies and loads of PG-13 sex appeal for both women and men. And he did all this with a diverse cast when Hollywood seems to still insist most heroes be white, straight and male. The Bourne franchise needs this kind of overhaul to reignite it, and Lin seems just the man to do it. The only bad news here is we'll have to wait so long to see what he comes up with.
Your Daily Blend of Entertainment News
Staff writer at CinemaBlend.