Fifty Shades Of Grey Trailer Teaser Has Arrived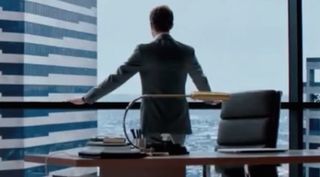 There's less than a week until the planned unveiling of the first Fifty Shades of Grey trailer, and today comes the above preview, which gives us a few snippets of footage to tease the trailer for the feature adaptation of E.L. James' steamy romance novel.
Via Variety, the teaser comes courtesy of Beyonce's Instagram, as you may have surmised by the music, which offers a breathy sounding remix of her hit song "Crazy in Love." As for what we see of the movie, it's the familiar sight of the back of billionaire businessman Christian Grey, the sight of impatient fingers tapping, then a hand fiddling with the hem of a skirt, and finally a hand (attached to a suited arm) turning a key in a lock, which may very well be Christian Grey unlocking the door to his "playroom."
"This Thursday, the worldwide phenomenon comes to life," the teaser reads -- for those who were too distracted by the visuals to notice. It's also worth noting the mention at the end that the movie still doesn't have a rating. From what was said last fall, producers were aiming for an R-rating for the film, but whether or not that's what it'll get remains to be seen.
We learned earlier this month, that Focus/Universal was set to unveil the Fifty Shades of Grey trailer on Thursday, July 24. The video will be the first footage we'll see from the film, excluding the preview that was shown at CinemaCon back in March. The movie wrapped earlier this year and isn't set to debut in theaters until Valentine's Day 2015.
Based on the first novel in a trilogy by E.L. James, Fifty Shades of Grey centers on Anastasia Steele (Dakota Johnson), a recent college grad who quickly falls for Christian Grey (Jamie Dornan), a businessman will a lot of money and also a lot of personal baggage. The book follows Christian's efforts to introduce Ana to the rougher side of sex, as the two form a complicated romantic relationship. Sam Taylor-Johnson directed the film, based on a script from Kelly Marcel. In addition to Jamie Dornan and Dakota Johnson, the cast includes Max Martini, Victor Rasuk, Luke Grimes, Jennifer Ehle and Rita Ora.
The above video isn't the first recent tease to arrive ahead of the trailer debut. Yesterday, the Fifty Shades of Grey Facebook page shared a teaser image of Christian Grey's helicopter, which you can see after the jump...