Find Out Why Matt Damon Badmouthed Bourne Screenwriter Tony Gilroy, Then Apologized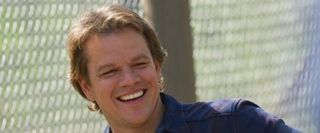 We've known for quite some time that a fourth Bourne movie is happening, and that Matt Damon isn't in it. Instead, actor Jeremy Renner (Mission: Impossible – Ghost Protocol) will be taking over the franchise in The Bourne Ultimatum as a new protagonist, with series screenwriter Tony Gilroy now also directing. Up until now, however, it has sounded like these changes were all cordial and mutual. Based on some comments Matt Damon made in a GQ cover story, however, that may not entirely be the case.
The trouble stems, apparently, from Damon and Gilroy's last Bourne collaboration, The Bourne Ultimatum. Damon told GQ that Gilroy's deal for the film only required him to write one draft of the script, no rewrites, because he was committed to making his directorial debut on Michael Clayton. Damon continued:
The script was thereafter rewritten by George Nolfi and Scott Z. Burns, but Damon said that Gilroy later petitioned the Writers Guild for sole credit on the script. He was denied, so Gilroy shares screenplay credit on the final film with Nolfi and Burns. Apparently, things behind the scenes of the Bourne franchise were a bit rockier than we knew. Damon also explained that the friction began when Paul Greengrass came on as director on the second film, The Bourne Supremacy, with Gilroy and Greengrass' competing styles jarring against each other. "Tony does all the work before and delivers a finished script. Paul wants the script to be ever-evolving during shooting."
Damon was quick to attempt to put his comments in perspective, however. In a new interview with THR, Damon explains that he was set on edge when the offices for The Bourne Legacy opened up in Vancouver, right next to his trailer on the set of Neil Blomkamp's science fiction flick, Elysium. He told THR:
Hopefully this spat between Damon and Gilroy won't come to blows. I once saw Damon kill a guy with a ballpoint pen (in a movie).
The Bourne Legacy is set to open on August 3rd, 2012. We'll have to wait until March 1st, 2013 for Elysium.
Your Daily Blend of Entertainment News
Thank you for signing up to CinemaBlend. You will receive a verification email shortly.
There was a problem. Please refresh the page and try again.