First Look At Anne Hathaway And Jake Gyllenhaal In Love And Other Drugs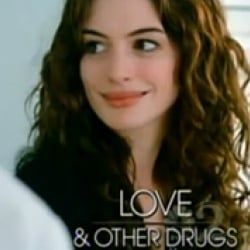 This weekend pretty much marks the end of the summer movie season, as the last three big movies anyone cares about-- Eat Pray Love, The Expendables and Scott Pilgrim vs. The World-- hit theaters at last. With the season of explosions and heroes out of the way it's time to start looking forward to fall, which is when, thank the Lord, the movies generally start getting really, really good. It's a long way to November 24 but I've already got my eye on Love and Other Drugs, a romantic comedy starring Anne Hathaway and Jake Gyllenhaal and directed by Ed Zwick, whose most recent films were the very much not-romantic comedies Defiance, Blood Diamond and The Last Samurai.
It could be a weird match, sure, but it could also be great, the happy ending you wanted for Gyllenhaal and Hathaway's characters in Brokeback Mountain with the added benefit of a lot of Viagra jokes (Gyllenhaal's character is a pharmaceutical salesman). Apparently the first trailer for Love and Other Drugs hits this weekend, and The Playlist picked up on both the first stills from the film in Entertainment Weekly's fall preview and a brief presentation of the trailer from Entertainment Tonight. You can see all of those things below-- the trailer is, in typical ET fashion, overrun by annoying commentary from the hosts, but you can ignore that to see what looks like a pretty well-done dramedy, starring two actors who both do great things when given the chance (i.e. not Prince of Persia and Bride Wars).
Your Daily Blend of Entertainment News
Staff Writer at CinemaBlend