First Look At Mia Wasikowska As Jane Eyre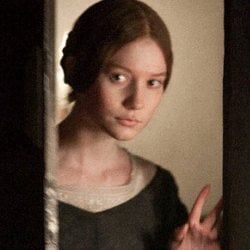 Now that The Kids Are All Right has proven she can act after all the aimless wandering she did in Alice in Wonderland, Mia Wasikowska is due to become a bona fide star. Is playing a classic literary heroine the way to do it? Well, it can't hurt. Coming to theaters March 11 next year, Jane Eyre stars Wasikowska as the titular governess with Michael Fassbender as Rochester, her employer and secret love. The film is directed by Cary Fukunaga, who made an impressive debut last year with Sin Nombre and is shifting gears considerably to take on this English period piece.
Over at the film's official Facebook page they're ramping up the publicity campaign by releasing two stills from the film, both featuring Wasikowska done up in her mid-19th century best. The stills don't tell us all that much, to be honest, but Wasikowska looks perfect for the role, and it will be interesting to see how Fukunaga tackles the traditional settings of the period piece and adds something fresh to it (if he takes a page from what Joe Wright did for Pride and Prejudice, I won't complain). Anyway, check out the two stills below, and look for your gloomy romance on the moors come March 11.
Staff Writer at CinemaBlend
Your Daily Blend of Entertainment News
Thank you for signing up to CinemaBlend. You will receive a verification email shortly.
There was a problem. Please refresh the page and try again.