First Photo Of Marvel Ant-Man's Villain, Yellowjacket, Leaks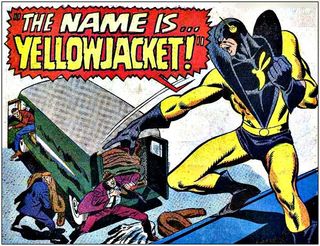 We have been treated to a fair amount of Ant-Man goodies this week, from the first-look footage that was part of Marvel's ABC special to an updated plot synopsis that suggested two clever twists. This one might be the best one yet, though. A possible look at the Ant-Man villain has landed online via social media. Check him out below.
The Twitter feed for @MoviesBook posted this grainy image of what they are claiming is Corey Stoll in Ant-Man as the expected villain, Yellowjacket. And if this is really him, it's freaking awesome. I love the mechanical look to his suit, the spider-esque metallic legs that are springing from his backpack, and the helmet that does mirror the costume that we expect Paul Rudd to wear in the Marvel standalone movie – which was shown in the concept art for Ant-Man.
Naturally, this costume would be an update on Yellowjacket's look in the Marvel comics, which resembled this:
But all of the Marvel characters have undergone upgrades during their transition from comic-book page to silver screen. Anthony Mackie's Falcon didn't have those great, military-weapons-grade wings in the 1970s comics, as you know.
Corey Stoll was confirmed to be playing Yellowjacket during the Marvel Hall H panel at San Diego Comic-Con. His alter ego will be Darren Cross, though it's unclear in what ways he will tie into Ant-Man's legacy. In stories past, Cross has been a rival of Stark Industries, and there have been rumors that Cross (Stoll) will come in possession of the Ant-Man technologies, forcing Hank Pym (Michael Douglas) to hire Scott Lang (Rudd) to steal it back.
All of this is a mystery for now. But this could turn out to be the latest bit of Marvel wizardry to be spoiled by an Internet leak. Maybe this means the studio will drop an official still of Yellowyacket over the weekend?
Movie junkie. Infatuated with comic-book films. ReelBlend cohost. Resident dad. Extroverted introvert. Wants to see the Snyder Cut. Managing Director at CinemaBlend.
Your Daily Blend of Entertainment News
Thank you for signing up to CinemaBlend. You will receive a verification email shortly.
There was a problem. Please refresh the page and try again.