Forest Whitaker Joins Liam Neeson In Taken 3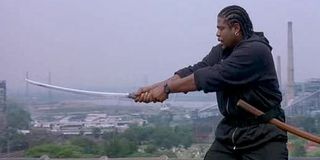 First, they took his daughter. Then, they took him. Now… well, they took his wife in the second film. Who is there left to take? Hey, does anyone wanna be Taken? The bad guys who get you will largely be incompetent, and some will die simply by being pushed, bloodlessly, against a coat hook on the door. Also, you'll get rescued by Liam Neeson! Some ladies like that. All dudes like that. Liam Neesons is the truth, yo.
And now, The Neesons Is Back! Liam Neeson is reprising his role as Bryan Mills in Taken 3: Take Take Take Take Take (title subject to change), and he'll be joined by an unlikely ally: Ghost Dog! Deadline reports that Forest Whitaker is in talks to join the franchise, with a shooting date set for March. No word on who Whitaker will be playing (HOPEFULLY GHOST DOG PLEASE), but this report also confirms that Maggie Grace will return. Will she be Taken again? Are they finally going to acknowledge that she is absolutely 100% no longer in any way a teenager? Luc Besson and Robert Mark Kamen have written the script, as they have with previous installments.
Unfortunately, director Olivier Megaton will also be returning from the second film. Megaton, a traitor to his balls-out awesome name, brought a level of incompetence to that second film that made Pierre Morel's original look like a masterpiece. Can't really argue with results, though: Taken 2 brought in $376 million worldwide on a $45 million budget, because no one can really resist the lure of Liam Neesons. We're one Earth, and all of us have hearts, and own Darkman on DVD.
Neeson originally claimed he was not interested in returning once again. But, big surprise, they gave Neeson twenty million reasons to bring Bryan Mills back, and why not? Today's Hollywood salary structure is basically, "I will do the thing I do until you stop paying me to do it," and the 61 year old Neeson has used that as an excuse to own punks in Non-Stop and Run All Night, while also finding ways to send up his image in A Million Ways To Die In The West. If you're looking for something a bit more introspective from the man who played Oskar Schindler, he's also in the upcoming A Walk Amongst The Tombstones from writer/director Scott Frank. Even your kids get some Neeson to themselves: he can be heard right now in The Nut Job and will also play Good Cop, Bad Cop and Pa Cop in The Lego Movie. It's a Liam Neesons World, y'all, we're all just living in it.
Your Daily Blend of Entertainment News
Thank you for signing up to CinemaBlend. You will receive a verification email shortly.
There was a problem. Please refresh the page and try again.