Former Senator Rick Santorum Is Running A Movie Studio Now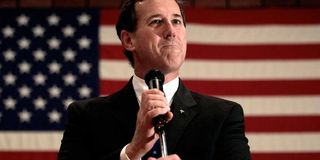 As a site dedicated to entertainment news, we don't often discuss politics. But today the topics of movies and politicians have unavoidably dovetailed, so let's talk Rick Santorum.
The former Republican Senator of Pennsylvania who threw his hat in the presidential race of 2012 has been elected the CEO of EchoLight Studios, a company that plans to "produce, finance, market and distribute faith-based, family films across all releasing platforms," according to Religion News Service. The site claims EchoLight has a "full pipeline of films with established directors and a growing cadre of 'faith and family' stars as committed as the directors and producers." The newly formed studio will release their first feature, The Redemption of Henry Myers on September 1st of this year. Then 2014 will see the release of Hoovey, a reportedly inspirational biopic about Illinois basketball player Eric "Hoovey" Elliott that boasts stars like Patrick Warburton and Lauren Holly, and will be helmed by Soul Surfer director Sean McNamara.
Santorum announced his CEO title last Saturday while on The Mike Huckabee Show, saying that he and this company aim to make financially successful films that will speak to the niche faith-based community and create "an authentic product truthful to the faith in people's lives." He also declared:
What values might Santorum be referring to? Among lessons of the power of faith, expect the kind of homophobic ideology that made Santorum a literal dirty word on the internet. Here's an interview from The Daily Show back when he released the book It Takes a Family that might reacquaint you with Santorum's beliefs:
To summarize, Santorum believes ice cream is good, but those gays are ruining marriage and family! Santorum believes the purpose of marriage is man + woman = babies. And Santorum believes you should legislate ideals like this one. I expect his movies to play by these "ideals."
You might think that assuming these movies with Santorum's name attached will be homophobic is unfair. Well, considering it was a recurring theme in his political rhetoric, I think we should expect nothing less—or maybe nothing more—of Santorum's slate. He believes conservatives should get engaged in the culture (as if they are not), and he's doing it. In the second clip above, Santorum says he is solid in his beliefs, and is ready for critics to have at it. He's referring to his book, but a new set of critics will be waiting come September. And I don't just mean us movie bloggers.
Personally, I'm hoping I'm wrong and when EchoLight says their focus is on faith, it will be on faith, not hate. But I am familiar enough with him that I don't have faith in Santorum.
Staff writer at CinemaBlend.
Your Daily Blend of Entertainment News
Thank you for signing up to CinemaBlend. You will receive a verification email shortly.
There was a problem. Please refresh the page and try again.