Forrest Gump Gets A Sequel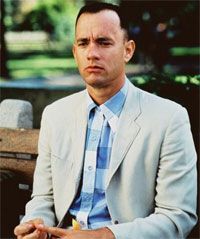 It's been thirteen years since Forrest Gump first ran into theaters, and now it looks like America's favorite chocolate loving mental deficient may be back for a sequel. Forrest Gump II isn't a new idea, Paramount has been kicking it around since the original movie made a bajillion dollars, and in 2001 they even hired Forrest Gump writer Eric Roth to pen a sequel screenplay.
An absolutely reliable, unfortunately anonymous source, contacted me tonight with the latest scoop on Forrest's impending return. It seems that old 2001 Eric Roth screenplay is being dragged out of development hell for another look by Gump producers Steve Tisch and Wendy Finerman. Remember that the first Forrest Gump movie was based on a novel by Winston Groom. Roth's sequel script was based on Groom's followup novel, "Gump & Co". "Gump & Co" takes place several years after "Forrest Gump" and finds Forrest's shrimping business failed and Jenny dead, leaving Forrest a single unemployed father. As you'd expect, Gump still stumbles through more important historical events. In this case it's a cavalcade of history from the 80s and 90s. He even meets Tom Hanks.
So, why didn't Paramount make this five years ago when Roth first wrote the script? Apparently the project got bogged down in a big legal tiff between Groom, the book's original author, and the studio. Groom claimed he wasn't properly paid for Forrest Gump, and so refused to sell them the sequel rights to his other book. Evidently they've now worked it out.
The truly important question here is whether or not Tom Hanks will return. Our source says Finerman and Tisch are talking to him, but there's nothing definitive yet. It is however likely that Gary Sinise will be back as Forrest's battle damaged buddy Lt. Dan. If Tom can't be talked into it, will they replace him? Word is they want this in theaters within the next couple of years, so while it's possible, let's hope they're smart enough to scrap it if he's not interested. No one does a better potty dance.
UPDATE! We've recently received an email from author Winston Groom, who asserts that the rumors of a feud between he and Paramount are completely false. He says, "There was never any "feud" between me and Paramount Pictures that caused any delay in making a movie of Gump & Company, a sequel to Forrest Gump. Hell, the studio bought the sequel a paid me a ton of dough even before it came out, and they then owned it, as they still do, and can make it a movie anytime they damn well please."
Your Daily Blend of Entertainment News