Fox Options A Satirical Parenting Advice Book, Go The F*k To Sleep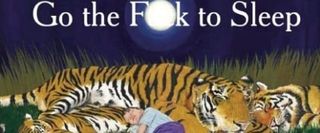 There's already the mini-genre of movies adapted from actual advice books-- we've already seen He's Just Not That Into You, and coming whether you like it or not is the rom-com take on What To Expect When You're Expecting. Now it's time to get used to an even more specific and bizarre mini-genre within the mini-genre: movies adapted from parody self-help books. So far it's just one, an adaptation of the satirical bedtime book Go The F*k To Sleep, but you know these things, like deaths, always come in threes.
As for this first effort, Variety reports that Fox 2000 has acquired the rights to Adam Mansbach's book, which "captures the endless bedtime routine that all parents endure." Presumably the title is what you'd rather say to your kid than placating them with blankets, hugs, songs and stories, but like most things about parenthood, there's a gooey heart at the center of the story as well. The studio hasn't hired the writer who has to dig a narrative out of this flimsy material or the director who will tackle it, but presumably they'll both have their hands full-- at the bare minimum, that title is definitely going to have to go. And, though you'll be forgiven for forgetting that movie ever existed, Bedtime Stories is already taken.
Staff Writer at CinemaBlend
Your Daily Blend of Entertainment News
Thank you for signing up to CinemaBlend. You will receive a verification email shortly.
There was a problem. Please refresh the page and try again.