Francis Ford Coppola Planning A Massive, Decades-Spanning Feature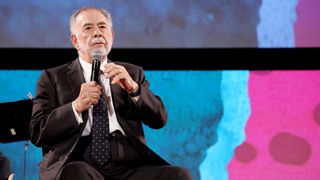 (Image credit: Daniele Venturelli via Getty Images)
Between Apocalypse Now and The Godfather trilogy, Francis Ford Coppola has cemented his reputation as one of America's most influential filmmakers. Still, it's worth remembering that while these films are widely well regarded as classics now, Apocalypse Now was a major gamble that repeatedly looked like it wouldn't pay off.
Decades later, Coppola is still defined by his gambles. Just last year he premiered his the horror-thriller Twixt with the wildly unconventional plan of going on tour with a series of event screenings where he would cut the thriller on the fly, based on audience response. Looking back on a career that has already spanned more than fifty years, he talked about his risk taking with EW, and gave a clue to what he's working on next, curiously confessing:
Typically, movies that leap through decades feel rushed and jumbled, but when it comes to Coppola, we're more than willing to give him the benefit of the doubt. And if he's calling this one "big" and "ambitious," be prepared to be blown away. Just consider Apocalypse Now.
Inspired by Joseph Conrad's novella Heart of Darkness, Coppola and co-writer John Millius shaped a complicated portrait of the horrors of the Vietnam War. In making the film, Coppola faced a plethora of obstacles, fighting for funding, wrangling talent willing to shoot on location in the jungles of the Philippines for months on end, replacing his lead after shooting had begun, and then keeping his new leading man (Martin Sheen) sane as production problems mounted. Reports of all these disruptions—and many more—hurt the film's reputation before it ever even screened.
To stem the wave of bad press, Coppola exhibited a work in progress cut at the 1979 Cannes Film Festival, where—even its rough form—it was met with rave reviews. Today, it is considered a masterpiece that helped usher in the New Hollywood era, and it still shapes our understanding of American history. So, when he calls a movie "big," we believe it.
Your Daily Blend of Entertainment News
Staff writer at CinemaBlend.