Freddie Mercury Biopic With Sacha Baron Cohen Set To Shoot Next Year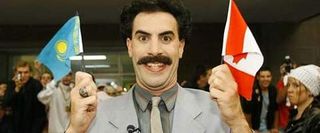 As a producer Graham King has helped shepherd some of the best films of the last decade, from Gangs of New York and The Departed as part of his long-term collaboration with Martin Scorsese to gambles like Ben Affleck's The Town or the trippy animated Rango. This week sees the release of his latest film Hugo, another film he made with Martin Scorsese, and when I talked to him about Hugo yesterday he mentioned the films he's planning to make next year, among them a long-gestating Freddie Mercury biopic that he confirmed is still scheduled for next year.
Nothing is yet official, and ever a diplomatic producer King was careful to say that things can change, but as it stands he currently plans to make the film next year, and with Sacha Baron Cohen still planning to star. Here's what King had to say about the actor's credentials to play the legendary lead Queen lead singer:
When I talked to screenwriter Peter Morgan this time last year he was writing the Mercury biopic, but King didn't let me know if Morgan's script is still being used. In addition to the Freddie Mercury movie, King is also planning a reboot of the Tomb Raider franchise and an adaptation of the musical Jersey Boys-- he swears he can make all three happen at the same time, but there are plenty of other factors that can delay a movie. Still, if you were excited to see Baron Cohen take on a character as complicated and interesting as Mercury, have faith that Graham King is equally excited to get that movie made. And if you're skeptical that the guy who played Borat can pull off a believable dramatic performance as Mercury, see Hugo, in which Baron Cohen has a small but pivotal role that requires him to build a dynamic in a short period of time.
I'll have more from my interview with King later this week. Hugo come to theaters on Wednesday.
(Sacha Baron Cohen image via Konstantin Sutyagin / Shutterstock.com)
Your Daily Blend of Entertainment News
Staff Writer at CinemaBlend