French Actor-Director Danny Boon Gears Up Hollywood Debut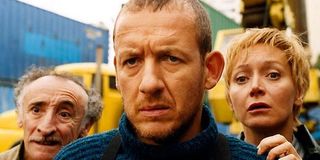 If you're a Francophile or just an avid fan of French comedies, you probably know the works of Dany Boon. The celebrated comedian who starred in such sidesplitting movies as The Valet, My Best Friend and Jean-Pierre Jeunet's Micmacs became a cheered director back in 2008 with the release of Welcome to the Sticks (or Bienvenue Chez Les Ch'tis as it's known in France). The comedy he co-wrote, helmed, and fronted proved a big hit with critics and audiences in his native land, and even drew the notice of Will Smith, who pondered an American remake. Now, Boon's looking to follow these achievements with a big breakthrough in America.
Deadline reports Boon has recently moved to Los Angeles, and will make his Hollywood debut with The Ambassadors from the Fox-supported production company Invention Films. An ensemble comedy penned by Tripper Clancy, The Ambassadors will focus on a road trip that begins in Heathrow Airport in London, England, then treks across Europe. Along for this hijinks-laden journey is a batch of international characters that bond in helping an American get home in time for a life-changing event. Whether that event is a baby, a funeral, or a wedding has not yet been released.
Boon will direct the continent-traversing comedy, but there's no word yet on whether he intends to also co-star. However, that seems likely as Boon has so far taken on the roles of actor and director in Welcome to the Sticks, his 2006 directorial debut La Maison Du Bonheur, the 2010 odd couple comedy Nothing to Declare, as well as the upcoming Supercondriaque, which will open in France on March 26th, 2014.
You can check out trailer for the first three of these below, and get a better sense of Boon's skills as a comedy crafter and star. First up, the fish-out-of-water laffer Welcome to the Sticks:
You can see from this trailer, La Maison Du Bonheur is a bit like the Tom Hanks' comedy The Money Pit.
And lastly, the buddy cop romp Nothing to Declare:
This poll is no longer available.
Staff writer at CinemaBlend.
Your Daily Blend of Entertainment News
Thank you for signing up to CinemaBlend. You will receive a verification email shortly.
There was a problem. Please refresh the page and try again.