Full Insurgent Trailer Gives Us Best Look At The Explosive Divergent Sequel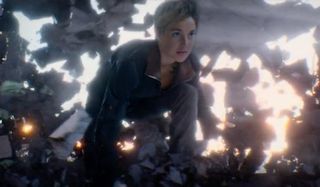 The final Insurgent trailer has hit the web. Unlike all our previous looks, it doesn't focus on the psychedelic mind trip this film will probably end up being. Instead we get our best look yet at the events to come in the highly anticipated sequel.
At the end of Divergent, we saw Tris (Shailene Woodley) on the run with Four (Theo James), her brother (Ansel Elgort) and that douchebag of a Dauntless warrior Peter (Miles Teller). They discovered Jeanine's (Kate Winslet) and Erudite's plans to overthrow the other factions and rule the government of this futuristic society. After watching her mother and father die at the hands of these tyrants, Tris fled with her companions and are now in hiding.
As the Insurgent trailer shows us, they seek refuge in Amity, the faction marked by their peaceful demeanor and kindness towards others. Its leader, Johanna (Octavia Spencer), welcomes the fugitives with open arms, but they'll soon encounter dangers. The new footage previews an attack on Tris' hideout, and she'll have to use her Dauntless training to survive. But if she's going to overthrow Jeanine, she'll have to bolster her numbers. That's where Evelyn (Namoi Watts) comes in. As the leader of the Factionless, those people you spotted in Divergent scavenging for scraps at the borders of the city, her and her people are ready to take up the fight.
Also returning for Insurgent are familiar faces Jai Courtney (Eric), Maggie Q (Tori Wu), Zoe Kravitz (Christina) and Ashley Judd (Natalie). But wait! Didn't we just say Tris' mom dies in Divergent? That means our heroine is surely in for one of those massive brain trips. We got a look at what mental obstacle courses await her this time around way back when our very first look at this film was released. There was a floating burning building, Matrix-style effects and Tris' mom calling for her daughter. What's real and what's not will be up to Tris to decide. But as a Divergent, she's pretty good at that sort of thing.
There's a lot going on in this trippy sequel, but the first film was way more enjoyable than it seemed on paper. So we have high hopes for Insurgent, which will hit theaters on March 20. (You can now reserve your tickets on Fandango.) Analysts are already predicting 2015 to be one of the biggest years for the box office in recent memory, and this installment of the popular young-adult franchise is certainly factoring in to their numbers.
Your Daily Blend of Entertainment News