Furious 7 Is A Ridiculous, Fun Ride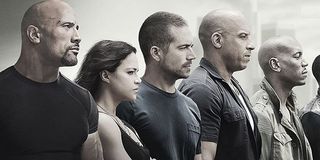 The SXSW Film Festival has an absolutely packed line-up this year, with great movies from interesting filmmakers playing all through the week, but on Sunday the annual event added one more title to its roster. In the early afternoon in Austin, it was announced that James Wan's Furious 7 would be having its first ever public at seven minutes after midnight, unleashing the latest sequel upon the world three weeks before its theatrical release. Well, the screening is now over, and I'm happy to report that the seventh installment in the long-running franchise is quite a bit of blockbuster fun.
Picking up where Fast & Furious 6 left off, the new movie begins finding Dom (Vin Diesel), Brian (Paul Walker), Letty (Michelle Rodriguez), Taj (Chris 'Ludicris' Bridges) and Roman (Tyrese Gibson) back home in Los Angeles – but also facing a threat unlike anything that's ever come after them. Deckard Shaw (Jason Statham), a highly trained black ops killer, learns that it was Dom and his crew who put his brother, Owen (Luke Evans), out of commission, and swears an oath to his sibling that he will get his revenge. On the defensive, the gang is forced to make a deal with a mysterious government operative (Kurt Russell), who sends them on a mission taking them around the world to recover a device that will be the key to the defeat of their powerful and deadly opponent.
At this point in the franchise, all movie-goers are actually looking for from this series are action scenes so ridiculous that they border on cartoony, and the great news is that Furious 7 delivers this in spades. While the film unfolds over the course of two and a half hours, a very large percentage of that is dedicated to what must surely be the most over-the-top sequences the filmmakers could imagine, and each one is as fun as the last – from car skydiving in Azerbaijan, to skyscraper jumping in Abu Dhabi, to all-out vehicular warfare in the streets of Los Angeles. Each of these scenes come together in tight, pulse-pounding packages, with James Wan showing that his limited experience in the action genre is most definitely not a handicap.
What is unfortunate is that Furious 7 is also a film that you really don't want to start analyzing on any kind of deeper story level, as that's an process guaranteed to suck a great deal of fun out of the experience. The movie gives off the sense that it was developed with the large-scale action set pieces in mind first, with a largely thin, MacGuffin-driven plot used to weave it all together. To the credit of screenwriter Chris Morgan, there is an honest attempt at theme - with both concepts of family and loss playing substantial roles in the narrative because of the untimely death of Paul Walker (a tragic behind-the-scenes element that's treated with respect and heavy emotion in the film) – but at the same time this is a franchise that really knows what it is at this point, and fully embraces it.
Set to be released on April 10th, Furious 7 will be kicking off the blockbuster season early this year, and it's a crowd-pleasing event film that will surely satisfy the series' core audience, and even those audience members left scratching their heads thinking about the plot will still be able to appreciate the work put into its larger than life moments. It certainly revved the engines of the audience viewing it at SXSW this evening, and it's not hard to imagine it doing the same thing when in wide release in a few weeks.
Assistant Managing Editor
NJ native who calls LA home and lives in a Dreamatorium. A decade-plus CinemaBlend veteran who is endlessly enthusiastic about the career he's dreamt of since seventh grade.
Your Daily Blend of Entertainment News
Thank you for signing up to CinemaBlend. You will receive a verification email shortly.
There was a problem. Please refresh the page and try again.