Gael Garcia Bernal To Play AIDS Patient With Matthew McConaughey In Dallas Buyers Club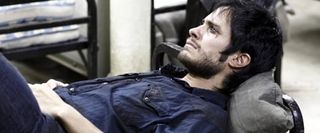 There's no lack of spectacular leading performances from actors this year-- Joaquin Phoenix and Philip Seymour Hoffman in The Master could alone make this one of the best years ever for male actors. But one of my favorite performances that I've seen this year is actually from a film that won't officially open until next spring, the Chilean drama No, which stars Mexican actor Gael Garcia Bernal as an ad executive caught up in a history-making campaign to unseat Chile's powerful dictator, Augusto Pinochet.
Bernal, who has had standout roles in Y Tu Mama Tambien and Bad Education in the past, gives a commanding leading man performance, and as I wrote from the Toronto Film Festival, he gives the film an "excellent emotional center." I'm hoping that performance leads him to bigger roles in films than he's been getting in recent years, and now it seems he's taking a very solid step in that direction. THR reports that Bernal is in negotiations to join Matthew McConaughey in The Dallas Buyer's Club, a drama based on the true story of a Texas man who was diagnosed with AIDS and began smuggling drugs to treat the disease over the American border.
The report describes Bernal's role as "showy," and as an "effeminate member of the club" in which other AIDS patients also receive the treatment drugs. Dallas Buyer's Club has been a passion project for McConaughey for years, and clearly after this year's success of Magic Mike and (to a lesser extent) The Paperboy, McConaughey is in a position where he can get the movie made. Production is set to begin in November in New Orleans, despite the fact that Hilary Swank has recently dropped out of a major role. Honestly, that doesn't matter-- McConaughey and Bernal on board a story this intriguing is all I need to be interested.
Your Daily Blend of Entertainment News
Staff Writer at CinemaBlend