Game Of Thrones' Natalie Dormer Is Cressida In The Hunger Games: Mockingjay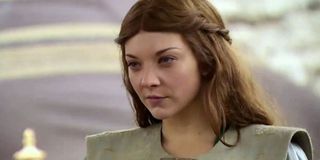 Only a handful of characters are left to be added to the Hunger Games films, as the third book in the series-- and what will be the third and fourth movies-- Mockingjay reduces the cast of characters drastically and only adds a few new characters to the mix. Now one more of them has been confirmed, and fans of other fantasy worlds will probably recognize her. The Wrap reports that Natalie Dormer, who plays Margery Tyrell on Game of Thrones, has been added to Mockingjay as Cressida, director of the "propo" films that Katniss stars in to help the budding revolution.
To get into more detail requires some spoilers, but to be honest, I had to look up Cressida on Hunger Games Wiki-- the names in this series can be a little wily, and Cressida isn't really the most crucial character in Mockingjay. She and her camera crew Castor and Pollux are part of all the action in the film, but as you might expect, Katniss and other holdover characters from Catching Fire are more of the focus. Mockingjay isn't entirely without new faces though-- Julianne Moore has been eyed to play the key role of President Coin, a major political leader who only emerges in Mockingjay. Again, to go much more into it would require spoilers-- but if you've clicked on a piece about them casting Cressida, you've probably read the books by now, right?
Even if you haven't, you'll have the chance to get caught up soon. The Hunger Games: Catching Fire is making its way to us quickly, promoting itself with everything from Capitol Couture profiles to total beefcake shirtless shots, and of course, a handful of new trailers in the mix. Check out the latest one below:
Catching Fire arrives in theaters on November 22 this year. For Mockingjay, and Dormer's role in both parts 1 and 2, you'll have to wait a bit long-- Part 1 comes November 21, 2014, with Part 2 coming nearly a full year later, on November 20, 2015. So if you want to see Dormer in action, your best bet is probably the next season of Game of Thrones which ought to premiere on HBO some time next year.
Your Daily Blend of Entertainment News
Staff Writer at CinemaBlend