Gary Oldman Drops Major Planet Of The Apes Story Details Because YOLO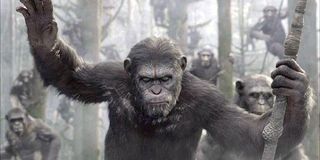 When you're Gary Oldman, you have a solid amount of job security. The guy has graduated from one of the all-time unheralded English actors into something like franchise superglue. Warner Bros. used him to prop up both the Harry Potter and Batman series, where he brought a level of dignity and class to stuff originally considered kiddie fare. In the years after, where he made repeat appearances in both franchises, he's also popped up in the respective sagas of Kung Fu Panda and Robocop, the latter in which he delivers a surprisingly touching performance. Basically, there are leading men and women in Hollywood, and then there are glue guys like Oldman, and they are equally indispensible. So when Oldman starts spouting off plot details of his latest big budget sojourn, Dawn Of The Planet Of The Apes, it ain't no thing.
Speaking to MTV on behalf of the Robocop remake, Oldman was asked about the upcoming entry in the ape saga. And either a whole lotta stuff happens in the Matt Reeves-directed sequel, or Oldman doesn't give a chocolate chip fudge about gag orders. His discussion reveals that the plot follows a society of humans who survived in the wake of the ape virus that crippled the planet at the end of Rise Of The Planet Of The Apes. Oldman's character has been elected as the leader of this crew, and he's "experienced great loss," leading to him feeling spiteful towards our future ape overlords. Ultimately, his character's endgame is ape genocide, to "wipe them out." According to Oldman:
If these details are accurate (and if they're not, frankly we can't blame Oldman for being able to keep up with some of the ongoing sagas of which he's participating), then this sounds a lot like a 28 Weeks Later scenario, with humanity trying, and possibly failing, to rebuild. The question is, how far down the rabbit hole does this whole thing go? How bleak do we get here? Lest we forget, we all know where this is going: the apes win, dude.
The second movie in the original Apes series, Beneath The Planet Of The Apes, ends with just about the darkest possible outcome, with the following Apes sequel moving backwards, even utilizing time travel. Is this series bound to go in the same direction? Dawn certainly seems like a darker, more intense sequel, but will there be light at the end of the tunnel, or is Fox prepared to show humanity their very end? And if so, what would that leave for Matt Reeves, scheduled to direct the third movie?
Your Daily Blend of Entertainment News