Gemma Arterton Could Be Megan Fox's Transformers 3 Replacement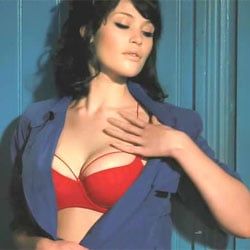 I'm not sure who decided Gemma Arterton was the next, big, hot Hollywood commodity, but after watching her mostly suck in Clash of the Titans and having my television invaded by her presence in the never ending stream of Prince of Persia ads, I'm sick of seeing her face. Michael Bay, it would seem, is not.
Just a few hours ago word broke here that Michael Bay is kicking Megan Fox off of Transformers 3 and replacing her with some other empty-headed nookie girl. Now word comes from The Wrap that this empty-headed nookie girl could be Gemma Arterton.
According to their sources she's "in the running" which could mean just about anything. Probably it means Michael Bay will make her wash his car before deciding if he wants to hire her. She's just one of the people on The Wrap's list. Other names include Bar Rafaeli, Miranda Kerr and Brooklyn Decker. All three are your standard, Maxim model types, which fits the mold of exactly the sort of actress you'd expect Michael Bay to go after.
Whoever Bay hires, she won't be playing Megan Fox's Mikaela character. They're removing her from the picture entirely and finding a new love interest for Shia. Of course like Megan Fox, not one of them is even remotely a realistic dating possibility for Shia's somewhat dorky Transformers character. But then after his recent comments trashing the last movie maybe Shia's headed out the door with Megan? Rumor has it she was fired for dissing Michael Bay and his movies, if Bay let's Shia get away with the same doesn't that mean he has a double standard? Oh wait, he's Michael Bay. Of course he does.
Your Daily Blend of Entertainment News