George Clooney Will Help Julia Roberts And Meryl Streep Scream At Each Other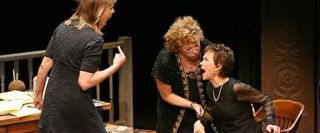 It's still going to be a gargantuan task for the Weinstein Company to adapt Tracy Letts's massive play August: Osage County for the screen, but the studio is slowly building up the star power to at least make the road a little smoother. Julia Roberts and Meryl Streep are already set to take the two lead roles, as the bossy oldest daughter in an Oklahoma family and the pill-addled mother who drives her crazy, and now they've added another A-lister behind the scenes-- The LA Times reports that George Clooney and his producing partner Grant Heslov have signed on to produce the film, which is reportedly set to begin shooting in the fall.
Clooney isn't likely to take a role onscreen, which if you've seen the play is actually a good thing-- there's not really a meaty part that he seems suited for, and this saga of Middle America doesn't really have space for a suave, Cary Grant-type figure like Clooney (yes, I realize he's from Kentucky, but you know what I mean). This will make Clooney's second play adaptation in a row, after last year's directorial effort The Ides of March, and a considerably more high profile one-- August: Osage County won the Pulitzer Prize for Drama in 2008 after its Broadway run, along with the Tony Award for Best Play, and comes with the kind of theatrical pedigree that makes a lot of people sit up, pay attention, and demand Oscar buzz.
That's undoubtedly what the Weinstein Company is hoping for, and with the stars they're attracting so far, they'll have no trouble getting it. The more interesting x-factor is who's working behind the scenes-- Letts is adapting his own play for the screen, which is a good thing, but the director is John Wells, who had an acclaimed career on TV before making the earnest but slightly stiff drama The Company Men, which got a bizarrely curtailed release last year. Can Wells reign in the high drama and black humor of August: Osage County? I'm not sure I'd even be bold enough to try, so hats off to Wells for being up to the challenge-- and best of luck in finding the right actors to round out the unforgettable Weston clan before shooting begins.
Staff Writer at CinemaBlend
Your Daily Blend of Entertainment News
Thank you for signing up to CinemaBlend. You will receive a verification email shortly.
There was a problem. Please refresh the page and try again.