Ghostbusters 3 Hires A New Writer, For Real This Time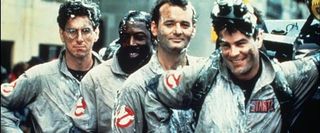 For once, this is a Ghostbusters 3 headline that doesn't come from Dan Aykroyd mouthing off. This is real, actual news, and Variety reporting it, which gives it a very high likelihood of being true. They're saying that Sony has brought in Etan Cohen, the screenwriter behind Tropic Thunder, Idiocracy and Men In Black 3, to write a new script for Ghostbusters 3, the long-promised third film in the classic 80s comedy series.
The Variety write-up says that the third installment is "expected" to feature original cats members Aykroyd, Harold Ramis, Bill Murray and Ernie Hudson, but it makes no mention of Murray's total, verging-on-hostile lack of interest in the movie. For years it's been Aykroyd promising the movie would happen and Murray putting on the brakes, and given that there hadn't been any official news about it since The Office writers Lee Eisenberg and Gene Stupnitsky were hired to write the script way back in 2008. It seems the Sony execs have taken a look at all these rumors and decided to actually do something with the property, and bringing in Cohen, their certified cash cow thanks to Men in Black 3, is the best way of saying "we're serious about this."
But Sony has been wanting to make more money off the Ghostbusters franchise for years now without a movie actually materializing, so it's hard to know it Cohen's hiring even makes it that much more likely the third Ghostbusters will ever exist. After so many years of back and forth I'll only believe the movie is happening once Bill Murray steps on set-- and haven't we all learned that Murray is so unpredictable you can never count on that? On top of that, it's unclear who even wants a third Ghostbusters movie aside from the people positioned to make money off of it. If you are one of those people looking forward to the movie, though, congratulations on this bit of forward movement-- and please let us know in the comments just what you're expecting from what looks like a hollow revival of a beloved franchise that's earned the right to be left alone.
Staff Writer at CinemaBlend
Your Daily Blend of Entertainment News
Thank you for signing up to CinemaBlend. You will receive a verification email shortly.
There was a problem. Please refresh the page and try again.