Giveaway: Solve Mysteries With Tons Of Sherlock Holmes Swag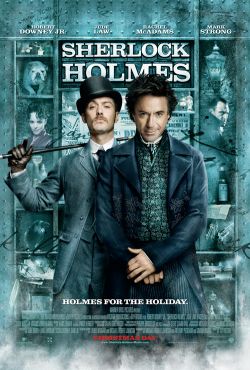 There's a decent chance you grew up with Sherlock Holmes, with his iconic catchphrases and pipes and hats, and his wit that always trumped mere brawn or money. This Christmas Sherlock Holmes is back, and while he may not look exactly like the character we all remember, as played by Robert Downey Jr. he's just as debonair and brilliant as ever.
In Guy Ritchie's Sherlock Holmes, Downey Jr. and Jude Law star as the classic team of Holmes and Watson, on the case of a mysterious series of killings in London, all linked to the devious Lord Blackwood (Mark Strong), who wants to use mysticism to gain control of London, and then the world. The movie flies by in a series of immaculately staged action setpieces and Holmes and Watson's constant bantering-- I do not exaggerate when I say it's the most entertaining movie I've seen all year.
To celebrate Sherlock Holmes, in theaters December 25th, we're giving away all kinds of awesome Holmes-related swag. Not only are the prizes totally awesome-- trust me, you want a copy of this soundtrack-- but a lot of the gear is emblazoned with the very subtle "221b," which we all know is the Holmes's famous address. It's a cut above a lot of the movie swag you'll see. One lucky winner will win everything you see below:
Backpack
Letterpress stationery in metal box
Mini vented umbrella
American Apparel unisex long-sleeve T-shirt
Grey wool ivy cap
Key corkscrew
Soundtrack CD
Sticky notes in case with magnet closure
Heat-changing mug
Gameloft gift card for the Sherlock Holmes mobile game
Leather magnifying piece
Keychain with decorative key
Two runners-up will win everything you see above except for the backpack, stationery and umbrella. How do you enter? Simply follow these instructions: Log in to your twitter account,follow us @cinemablend and then tweet this: "@cinemablend It's elementary! Enter me to win the Sherlock Holmes prize pack." One winner and two runners-up will be selected at random. Entries will be accepted until 11:59 PM on Monday, December 28th, 2009.
The winner will then be contacted via Twitter and asked to provide their mailing addresses (no P.O. boxes please). Prize packs will be mailed directly to the winner. No purchase necessary. Failure to comply with the rules will in disqualification and subsequent mockery. Good luck!
(Here come the serious rules)
RELEASE AND INDEMNIFICATION:
BY ENTERING THE SWEEPSTAKES, ENTRANTS RELEASE AND HOLD HARMLESS WARNER BROS. ENTERTAINMENT INC. AND EACH OF ITS RESPECTIVE PARENTS, DIVISIONS, AFILIATES, SUBSIDIARIES, AGENTS AND ADVERTISING AGENCIES (COLLECTIVELY, "WBEI") FROM AND AGAINST ANY AND ALL LOSSES, DAMAGES, RIGHTS, CLAIMS, AND ACTIONS OF ANY KIND ARISING IN WHOLE OR IN PART, DIRECTLY OR INDIRECTLY, FROM THE SWEEPSTAKES OR PARTICIPATION IN ANY SWEEPSTAKES-RELATED ACTIVITY (INCLUDING WITHOUT LIMITATION THE REMOVAL FROM THE SITE OF, OR DISCONTINUATION OF ACCESS TO, ANY MATERIALS), OR RESULTING DIRECTLY OR INDIRECTLY, FROM ACCEPTANCE, POSSESSION, USE, OR MISUSE OF ANY PRIZE AWARDED IN CONNECTION WITH THE SWEEPSTAKES, INCLUDING WITHOUT LIMITATION PERSONAL INJURY, DEATH, AND/OR PROPERTY DAMAGE, AS WELL AS CLAIMS BASED ON PUBLICITY RIGHTS, DEFAMATION, AND/OR INVASION OF PRIVACY.
LIMITATION OF LIABILITY:
IN NO EVENT WILL THE WBEI BE RESPONSIBLE OR LIABLE FOR ANY DAMAGES OR LOSSES OF ANY KIND, INCLUDING WITHOUT LIMITATION DIRECT, INDIRECT, INCIDENTAL, CONSEQUENTIAL, OR PUNITIVE DAMAGES, ARISING OUT OF ANY ACCESS TO AND/OR USE OF THE SWEEPSTAKES SITE, THE DOWNLOADING FROM AND/OR PRINTING MATERIAL DOWNLOADED FROM THE SWEEPSTAKES SITE, THE REMOVAL FROM THE SWEEPSTAKES SITE OF, OR DISCONTINUATION OF ACCESS TO, ANY MATERIALS, OR THE ACCEPTANCE, POSSESSION, USE, OR MISUSE OF, OR ANY HARM RESULTING FROM THE ACCEPTANCE, POSSESSION, USE OR MISUSE OF, OR PARTICIPATION IN, ANY PRIZE AWARDED IN CONNECTION WITH THE SWEEPSTAKES. WITHOUT LIMITING THE FOREGOING, THE SWEEPSTAKES, ALL PRIZES, AND ALL MATERIALS PROVIDED ON OR THROUGH THE SITE ARE PROVIDED "AS IS" WITHOUT WARRANTY OF ANY KIND, EITHER EXPRESS OR IMPLIED, INCLUDING WITHOUT LIMITATION THE IMPLIED WARRANTIES OF MERCHANTABILITY, FITNESS FOR A PARTICULAR PURPOSE, AND NON-INFRINGEMENT.
OFFICIAL SYNOPSIS
Visit the movie's official site for more info.
Be the first to know! Receive exclusive Warner Bros. Movie News Updates!
Your Daily Blend of Entertainment News
Staff Writer at CinemaBlend