Godzilla Concept Art Shows Off The Chilling Power Of The King Of The Monsters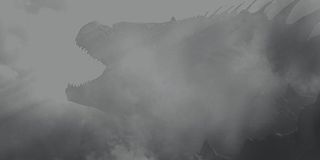 For years America was shamed for our putrid attempt at recapturing the magic of The King Of The Monsters with Roland Emmerich's goofy and nonsensical Godzilla. But sixteen years have passed, and now Hollywood is ready to reclaim its pride with a new, more ferocious adaptation of the Japanese story, coming into theaters next month. If you're chomping at the bit to take a bite out of this reboot, then you'll salivate over these looks at the production design, courtesy of Mark Cotta Vaz.
Vaz is a prolific author with twenty-one books to his name, including The Art of The Incredible, Industrial Light & Magic: Into The Digital Realm and The Twilight Saga Breaking Dawn Part 1: The Official Illustrated Movie Guide. Because of his vast experience in capturing the work and artistry that goes on behind the scenes of blockbuster movies, Vaz was chosen to give his artful eye to Godzilla: The Art of Destruction. This colorful coffee table book is the latest element of Warner Bros' Godzilla marketing campaign. And Nerdist has the first look.
In addition to the image above, check out a few of their selected page spreads below:
This image gives us a peak into a control room where Dr. Joe Brody (Bryan Cranston) can be spotted pouring over something that - like so many things in this movie - appears to fill him with deep dread. This setting was a challenge as production designer Owen Paterson was determined that every element--from doors to gages and switches - should look true to its Japanese inspirations, down to the right time period and style.
Next up is some concept art meant to represent a neighborhood devastated by Godzilla. With this as a starting point, director Gareth Edwards and his scouting team sought locations that they could dress to mirror this level of carnage. In the lower half of the page, you see Dr. Brody and his son Ford (Aaron Taylor-Johnson) discovering a lost dog among the ruins.
For a more mind-bending look into Godzilla's power, check out this chilling concept art, which shows a massive nuclear submarine that has been dropped in the mountains as though it were a forgotten plaything. "I love this shot," Edwards declares in the book. "We struggled with trying to find a position for the submarine that didn't feel too silly, but you could still read it from a distance. This is a shot that's never in the film, they don't actually approach it from the boat, but again, things get drawn just to give it flavor."
Lastly, we have a strange shot of paratroopers, who are trailing red smoke. While this helps explain Godzilla: The Art of Destruction's cover and references one of Godzilla's posters , their role in the film itself is still a mystery. But it seems sure to be amongst Godzilla's most daring action sequences.
Godzilla opens May 16th.
Your Daily Blend of Entertainment News
Staff writer at CinemaBlend.