Sundance Setting Record-Breaking Sale For Me And Earl And The Dying Girl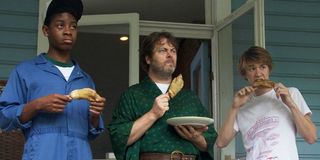 The Sundance film festival is in full swing and with it comes an abundance of films looking for distribution. We've already heard great things from critics about James Franco and Zachary Quinto in I Am Michael, Jason Segel as David Foster Wallace in End of the Tour, and the spooky film The Witch. But the biggest news to come out of this festival this year so far centers on Me and Earl and the Dying Girl.
Directed by Alfonso Gomez-Rejon and based on the book of the same name by Jesse Andrews, the film has sent bidders into a frenzy. According to both Deadline and The Hollywood Reporter, practically everyone wants to distribute this film after it premiered at Sundance, and some are even willing to pay upwards of $12 million for the rights. On Sunday night, Fox Searchlight was said to be in the lead with a bid attached with that price tag on it. However, this process is very secretive and studio insiders were denying talks were entering that high of a range. Other studios said to be in contention for the rights include Focus, CBS Films, Lionsgate, A24 and Miramax.
This is a pretty historic buy for a Sundance film. If all goes through, this will topple the previously set records of Little Miss Sunshine and Hamlet 2, both of which were sold for roughly $10 million at the festival. A few days ago, the film Dope, about a Harvard hopeful trying to stay on the straight and narrow in the drug-dealer-infested community of Inglewood, was close to landing at Open Road and Sony for a deal worth $7 million. But this business with Me and Earl and the Dying Girl would clearly blow that out of the water.
Starring Thomas Mann, RJ Cyler, Ouija and Bates Motel star Olivia Cooke, Nick Offerman and Connie Britton, the film is said to be similar in tone to The Fault in Our Stars and The Spectacular Now. The story centers on a film geek (Mann) who's trying to stay out of the social spotlight his senior year of high school, choosing instead to make films with his only friend (Cyler). However, his livelihood is threatened when his mom forces him to befriend a girl who's suffering from leukemia (Cooke).
Early reviews show why this film is causing such a bidding war. THR called it "film-geek friendly but thoroughly accessible and very funny," while Variety praised its "near-constant stream of wise, insightful jokes" and HitFix calls it "a fresh, beautiful and heartbreaking achievement." It'll likely strike a resonating chord with the Fault in Our Stars crowd but seemingly with a refreshing take on the coming-of-age genre. Also the fact that the director uses stop-motion animation and unique perspectives has our film geek juices tingling.
Your Daily Blend of Entertainment News
Thank you for signing up to CinemaBlend. You will receive a verification email shortly.
There was a problem. Please refresh the page and try again.