A Grey Hulk Was Almost Featured In Avengers: Age Of Ultron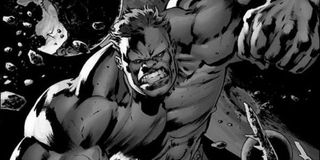 A few months ago Hot Topic released an exclusive Funko POP Vinyl line that suggested a grey Hulk would be showing up in Avengers: Age of Ultron. The exclusive toy line called it the "Savage Hulk" and when the photo was released, we speculated on the Hulk's skin pigmentation and why it would happen. Turns out that we guessed correctly, except that ultimately, Avengers 2 decided to keep him green to appease fans. But, in actuality the Grey Hulk was supposed to appear during the Hulkbuster sequence.
Exploring the visual effects that went into Age of Ultron, Wired discovered that The Hulk was supposed to turn grey. In chatting with the Industrial Light & Magic (ILM) team that worked on the film, particularly the visual effects of the Hulk, Mike Seymour discovered the film's original intentions of changing colors (some minor spoilers ahead for those who have not seen Avengers: Age of Ultron quite yet):
It's pretty ironic that ILM decided to stick with the green from grey, considering Hulk was actually originally supposed to be grey in the comic books. When Stan Lee and Jack Kirby first created the Hulk, they intended him to be grey, but the printing press continued to have trouble with the color, and he kept coming out green, so they just went with it. Later it was revealed that the original color was in fact grey, and that spawned Grey Hulk who was a completely separate personality. Grey Hulk was different than both Bruce Banner and Green Hulk. He was not as strong as Green Hulk, but smarter and also more manipulative. The comic book Grey Hulk is a bit different than what Avengers: Age of Ultron intended with using that color though.
In the Hulkbuster scene, which would've been Grey Hulk, Hulk is put under Scarlet Witch's spell, he becomes even more angry and more destructive, basically embodying all of Bruce Banner's worst fears about the big green. Throughout both Avengers films, the Hulk has maintained a hero status, never causing too much harm to innocents. Yet, Banner is a lover not a fighter (as becomes more prevalent in Age of Ultron) and the Hulk's violent behavior, no matter which side he protects, causes Banner serious strife.
Under Scarlet Witch's spell the Hulk basically destroys an entire city. We can see that he is out of control with the red around, and reflecting in his eyes. It would've been cool to see the big guy turn a completely different color, but the final product proves equally effective.
Your Daily Blend of Entertainment News