Grindhouse Exploitation Music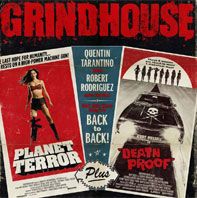 Alright, I'm just going admit something right of the bat here. I'm a music idiot. I'm a movie guy, but I know next to nothing about music. It's not that I don't like it, it's just that I don't have a lot of time to pay attention to it. I'm too busy watching shit like Babel.
The only time I really pay attention to music is when it's stuck in a movie, and to my mind, few people do that better than Quentin Tarantino and Robert Rodriguez. Both have a flair for mixing the weird and the cool together to come up with a pretty unique mix of songs to drive their movies. One Upon A Time in Mexico isn't very good, but it has a killer soundtrack. Kill Bill has one of the coolest soundtracks of the new millennium, and it's so cool that the songs have been played to death as background for crappy commercials ever since. So with QT and Rodriguez teaming up for Grindhouse, I start thinking music.
Maverick Records is distributing the Grindhouse soundtrack to the masses, and today they sent us a press release announcing what you'll find in Tarantino's half of the movie, Death Proof. As mentioned before, I'm a music idiot, so more than half the artists on it mean nothing to me. But maybe they'll mean something more to all of you. Here's what Maverick says about the soundtrack:
The soundtrack includes classic songs from the '60s and '70s, such as "Jeepster" from British glam rock band T Rex, "Staggolee" from San Francisco blues band Pacific Gas & Electric, "Down In Mexico" from doo-wop legends The Coasters, and "Good Love, Bad Love" by Stax R&B legend Eddie Floyd. It also features a haunting composition, entitled "Paranoia Prima," from legendary Italian film score composer Ennio Morricone. The songs are interspersed with dialogue voiced by the actors including Russell, Rose McGowan, Eli Roth, and Michael Bacall.
The music perfectly captures the feel of the exploitation films that became popular in American cinema in the late '60s and '70s. With their explicit sex and excessive violence and gore, the films were mainly shown in inner-city theaters, called "grindhouses," usually as back-to-back double features. "I grew up watching those type of movies and I loved them," Tarantino says in Grindhouse: The Sleaze-Filled Saga of An Exploitation Double Feature. "The whole grindhouse experience, where you would see two horror films in these low ghetto theaters. Robert and I had the idea to actually do this film that is closer to a grindhouse ride and recreates the experience in one movie and in the best possible version ever presented."
DEATH PROOF TRACK LIST
"The Last Race" — Jack Nitzsche
"Baby, It's You" — Smith
"Paranoia Prima" — Ennio Morricone
"Planning & Scheming" — Eli Roth & Michael Bacall
"Jeepster" — T Rex
"Stuntman Mike" — Rose McGowan & Kurt Russell
"Staggolee" — Pacific Gas & Electric
"The Love You Save (May Be Your Own)" — Joe Tex
"Good Love, Bad Love" — Eddie Floyd
"Down In Mexico" — The Coasters
"Hold Tight - Dave Dee, Dozy, Beaky, Mick & Tich
"Sally and Jack (From the Motion Picture Blow Out)" — Pino Donaggio
"It's So Easy" — Willy DeVille
"Whatever-However" — Tracie Thoms & Zoe Bell
"Riot In Thunder Alley" — Eddie Beram
"Chick Habit" — April March
Your Daily Blend of Entertainment News
Thank you for signing up to CinemaBlend. You will receive a verification email shortly.
There was a problem. Please refresh the page and try again.