This Gritty James Bond Bootleg Short Is Slick, Stylish And NSFW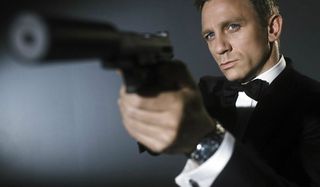 One week after making headlines across the internet for his bootleg short Power/Rangers, producer Adi Shankar has released another short unauthorized film, this time featuring Agent 007. Check out the gritty Sean Connery-era James Bond in the following animated short James Bond: In Service Of Nothing.
The following video is NSFW
The above short, produced by Shankar (The Grey) and directed by Tyler Gibb, follows a throwback 1960s version Bond as he tries to maintain his relevance amidst our "self absorbed and impersonal modern world." The aging mock Connery agent finds himself feeling useless after his license has been revoked and thus decides to come out of retirement to fulfill the duties of his former job.
I found the pre-visualization motion storyboard presentation (reminiscent to Sin City) to actually provide a fresh and stylistic foundation for the short. The fact that it is animated gives it the freedom to escape the pitfalls that Bond films oftentimes face. The rules expected to be adhered to with "all things Bond" are more free to be bent when exploring the characters through this medium... and the resulting piece above proves sometimes that is exactly what's needed.
Shankar essentially became known across the globe last month after he released his latest controversial short Power/Rangers: Unauthorized & Hardcore. The equally-gritty short, directed by Joseph Kahn, created a whirlwind of noise when Saban Entertainment (which owns the rights to Power Rangers) threatened legal action against the filmmakers. While the material is considered fan-made, it has an impressive look and feel that surely blurs the lines of the term "professional production" in viewer's minds. The R-rated short film, which has since been put back up on both YouTube and Vimeo, has now amassed more then 13 million views across both services. The only thing different is there is now a disclaimer at the beginning of the vid saying the following:
Although it never reached the heights of Shankar's Power/Rangers, the increasingly-popular producer also released this amazing short bootleg of The Punisher, back in 2012. That film, starring Thomas Jane, also grabbed a viral following that helped it accrue over 6 million views to date.
Your Daily Blend of Entertainment News
Your Daily Blend of Entertainment News
Thank you for signing up to CinemaBlend. You will receive a verification email shortly.
There was a problem. Please refresh the page and try again.