Groot Has An Actual Phone Number, So Shoot Him A Text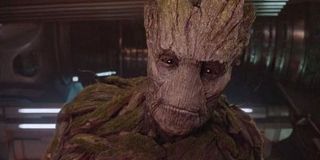 The most beloved character of the whole summer movie season is a sentient tree beast known as Groot. His limited vocabulary, heart of gold and dancing roots have made us all fall hard for Groot, and now we can actually reach out and talk to this Guardians of the Galaxy star. Well, text anyway.
Tech Crunch reports Brooklyn-based app developer Ricky Robinett has created a simple app that allows you to text Groot. His responses are both predictable and reassuring. It's free--apart from your own data rates--and easy. All you have to do is text whatever you want to (866) 740-4531. Save him as a contact. Groot totally won't judge you when you drunk text him at three in the morning.
This isn't actually another inspired marketing move of Marvel's. Robinett did it on his own. But it doesn't seem like Marvel minds. I mean, why should they? It doesn't seem this is earning Robinett any money, and it's just free advertising for Guardians of the Galaxy. Now the film's director has even endorsed the app, sharing news of it with his 125,000 followers.
Fans are ravenous over Robinett's I Am Groot text app. Within a day of it's launch, its creator was thrilled to reveal that "Groot" had already sent more than 30,000 messages. By this morning, that number had doubled.
It's little wonder Groot texting is taking off. Robinette's auto-text app is an inspired dovetailing of app ease and fan art. Fittingly, he's expressed his appreciation for fans' responses to the app with a Groot meme.
Tell Groot how you feel about all of this. Drop him a text. Because deep down, we are Groot.
Staff writer at CinemaBlend.
Your Daily Blend of Entertainment News
Thank you for signing up to CinemaBlend. You will receive a verification email shortly.
There was a problem. Please refresh the page and try again.