Make Your Own Dancing Groot Cupcakes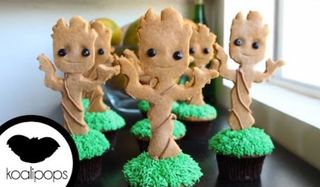 Summer movie season has come to a close, but you can keep the joy of Guardians of the Galaxy alive by baking up some dancing Groots of your very own!
The webseries Become a Baking Rockstar teaches us all how to celebrate our love of Guardians of the Galaxy's groovy little sentient tree with this video, and JK Denim (A.K.A. John Keith Denim) from Koalipops steps us through this bit of tasty fan art. I am (hungry for) Groot!
All you need for this recipe is three icings (one light brown, one light green, one black), four cupcakes (sans icing), shortbread cookies (recipe for those linked here)--or gingerbread if you prefer--and the Groot printout stencil below:
Click to get the image full size!
The first step is to add a bit of brown dye to your cookie dough to make it Groot-colored. Then you roll it out and cut out pieces in the shape of your stencil. Create the details of vines and that charming Groot smile with a spoon! For eyes, just push the dough gently with your fingers. Bake at 350 degrees for 20 minutes.
You can make your cupcakes from scratch, but JK Denim won't judge you if you go the store bought route. Apply green icing to the cupcake's top to give the appearance of grass. Once your Groot cookies are baked, wait until they've cool. Then, carefully make little eyes with the black icing, and add dimension to his trunk with the brown icing. As Denim himself points out - "This is SO cute!"
From there, just use a knife to cut some space in the cupcake's center to root your Groot. And you'll have "a farm of Groots!" The next step is inviting the Cinema Blend staff over for tastings. That's only fair.
Dancing Groot has proved a breakout character for the Marvel Cinematic Universe. His scene-stealing in the mid-credits scene has won not only countless fans, but some noteworthy imitators. Chief among these is Michael Rooker. In Guardians of the Galaxy, he played the knick knack-loving outlaw Yondu. But when faced with an eager young cosplayer at Wizard World in Chicago, this tough guy will go full-on dancing Groot!
Three cheers to Emily Westmoreland for her killer Groot cosplay. From the pot to the branches to the dance, this kid nailed it.
Guardians of the Galaxy, the biggest movie of 2014 at home so far, is now in theaters
Staff writer at CinemaBlend.
Your Daily Blend of Entertainment News
Thank you for signing up to CinemaBlend. You will receive a verification email shortly.
There was a problem. Please refresh the page and try again.