Guardians Of The Galaxy Is On The Shortlist For This Oscar Category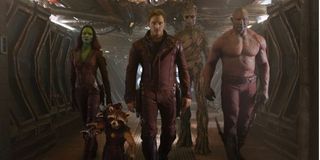 Awards season is starting to gear up, and everyone is focusing in on the shortlists that are starting to crystallize. Out of this year's eligible films, only a few will become shortlisted for consideration in any category. Out of those few, only five will become nominees, which will then duel it out to become the one that takes home the gold. In the case of the award for "Best Visual Effects," there are ten films on the shortlist, and one of them happens to be none other than the highest grossing film of the year, Guardians Of The Galaxy.
Out of a field of ten films with VFX shortlist status, three of them are comic book films. The other two are, naturally, Captain America: The Winter Soldier and X-Men: Days Of Future Past. As for the other seven films that are non-comic book spectacles, these are their titles:
That's some pretty stiff shortlist competition, but considering the films involved, we'd like to try our hand at evaluating the field. First off, let's slim down the outside field of seven. Our of those titles, the easy picks are Dawn Of The Planet Of The Apes, Interstellar, The Hobbit: The Battle Of The Five Armies, and Transformers: Age Of Extinction. With those four plotted out due to advances in technology, superb visualizations of phenomenon we can only theorize about, and because of a pre-existing awards track record, there's one spot left. One spot for a comic book movie to shine alongside science, simians, and star power.
Captain America: The Winter Soldier would only get the spot because of the Helicarrier sequence towards the end of the film, and while that was impressive, the film wasn't known for its eye-popping fare. X-Men: Days Of Future Past did a good job of creating a stark future and a period appropriate past, mixed with some of the fantastical. But again, X-Men: Days Of Future Past's best effects are arguably in the makeup category.
Which leaves us with Guardians Of The Galaxy's chances for Oscar nomination. Compared to the comic book field, it seems like a sure fire nom. Why? Just take a look at the work done on Groot and Rocket, as that alone is something to behold. On top of that, a lot of the cosmic imagery went out of its way to be interesting, instead of just inky black space. Motion capture advances, fantastic outer space visuals, a bunch of imagination and a ton of box office all stand behind Guardians Of The Galaxy... something that each of its theoretical competitors have some of, but not all of.
Guardians Of The Galaxy is the film that made you cry over a raccoon and a tree's friendship. A sentient, smart mouthed raccoon and a lovable lug of a tree that's his best friend made you cry real tears over their CGI existence. If that's not at least in the running for Best Visual Effects, then the question remains: "what is?"
If you're still not convinced, then you should watch Guardians Of The Galaxy another couple times on Digital HD, or on DVD and Blu Ray next Tuesday. Then come back and tell us we're mad.
CinemaBlend's James Bond (expert). Also versed in Large Scale Aggressors, time travel, and Guillermo del Toro. He fights for The User.
Your Daily Blend of Entertainment News
Thank you for signing up to CinemaBlend. You will receive a verification email shortly.
There was a problem. Please refresh the page and try again.