Guillermo Del Toro Producing A Dark, Stop-Motion Pinocchio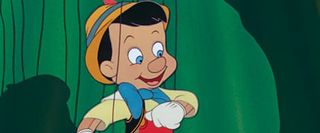 Guillermo del Toro, who never met a fairy tale he didn't want to subvert with darkness, has taken on a new project along with the Jim Henson Company and Pathe. According to Deadline he'll be a producing a stop-motion animated version of Pinocchio, which will be aimed at children 10 and up and will feature some elements you may not remember from the animated Disney film, like the Blue Fairy being the ghost of a dead girl, or Pinocchio's hallucinations. The film will apparently stick closer to the Carlo Colodi fairy tale that inspired the 1940 Disney film.
Gris Grimly and Mark Gustafson will co-direct the film based on a story cooked up by Del Toro and Matthew Robbins; del Toro originally intended to direct the project, but he's still moving ahead on At The Mountains of Madness, pending a greenlight from Universal. Maybe most exciting, Nick Cave is signing on a music consultant, and the puppets and 3D elements will be handled by McKinnon and Saunders, the people who brought us The Fantastic Mr. Fox and Corpse Bride. Here's how del Toro described their take on the classic story:
There's a lot more detail in the Deadline article, including del Toro describing the work he did on the project before handing it over to another director. It's going to be interesting how he can handle this, Mountains of Madness and even the consulting deal he's got over at DreamWorks Animation, but del Toro has never been a guy to be less than ridiculously busy. And even if you never thought you wanted a dark revisionist take on Pinocchio, del Toro proved with the original Pan's Labyrinth that he's got a way of bringing out the dark, fascinating corners of childhood lore. So long as the film has his stamp on it one way or another, it will be well worth looking forward to.
Your Daily Blend of Entertainment News
Staff Writer at CinemaBlend