Guillermo Del Toro Turning Pan's Labyrinth Into Stage Musical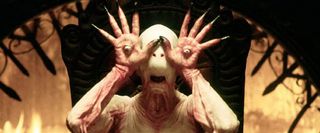 In 2006, Mexican writer-director Guillermo del Toro drew worldwide notice for his original fantasy feature Pan's Labyrinth. The Spanish-language film, which centered on a young stepdaughter who copes with the cruelty of her new father by escaping into a treacherous and fantastical world, earned an impressive $83 million worldwide, and won near universal praise. Its incredible visuals not only garnered Academy Awards for art direction and makeup, but also cemented del Toro's reputation as a distinct and visionary storyteller. But he's not done with this story just yet.
Deadline reports del Toro is developing a English-language stage musical of Pan's Labyrinth. He's been working on the adaptation for four years in secret. As the celebrated storyteller scripted its book with Jeremy Ungar, he has also been meeting with directors, librettists and composers. His exhaustive search for the right team has recently yielded lyricist Paul Williams, who co-wrote the Muppets classic "Rainbow Connection" among other accomplishments, and Oscar-winning composer of Brokeback Mountain and Babel, Gustavo Santaolalla.
Del Toro already has an agreeable working relationship with the pair as he's currently collaborating with them on songs for the animated Reel FX film Day Of The Dead. But his admiration for them is deep. In fact, his appreciation of Williams' work goes way back. Citing the 1974 Brian De Palma horror-fantasy Phantom of the Paradise, he gushes:
There's no mention of where the eventual stage show might debut, but there might be a hint in that Robert Fox is on board. Though based in London, the English theater producer who has worked on such noteworthy productions as The Boy From Oz, The Pillowman, and Frost/Nixon, has brought forth plays in both London's West End, and New York City's Broadway. As a resident of the latter, I'll be hoping for Pan's Labyrinth to premiere there because this sounds like it will be absolutely sensational.
Your Daily Blend of Entertainment News
Staff writer at CinemaBlend.