Guillermo del Toro Cuddles Up To DreamWorks Animation, Starts With Trollhunters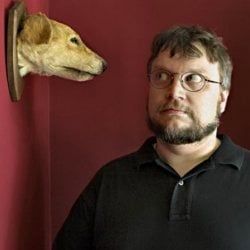 The endlessly imaginative Guillermo del Toro recently decided to lend his talents to Disney to make another Haunted Mansion movie, but apparently the director isn't afraid to jump over to the rivals as well. THR reports that del Toro is not only setting up the project Trollhunters at DreamWorks Animation, but he'll act as consultant and executive producer for several other projects, including Kung Fu Panda 2 and Puss in Boots.
To be fair, the great battle isn't between Disney as a whole and DreamWorks Animation, just Pixar vs. the only other studio to rival their level of talent and imagination. Still, given how deeply Disney has sunk their claws into Tim Burton, who may well be living in Cinderella's castle at this point, it's surprising they wouldn't strong-arm him away from DreamWorks Animation. Talking to THR del Toro talked up the potential power of animation to transcend different kinds of entertainment media, and got a little depressingly corporate about it: "Transmedia will not just be a buzz word." Aww, Guillermo, that's really not something we ever wanted to hear you say.
As for Trollhunters, though, it sound pretty perfect for del Toro's wheelhouse. It's based on his own young adult novel that he apparently started writing about the same time as his vampire series The Strain, which is in stores now. Here's what del Toro had to say in THR about the book; see how many familiar del Toro tropes and ideas you can spot in this short paragraph:
To be fair, DreamWorks Animation has established themselves a studio willing to spread out in a lot of story directions, while Pixar's meticulously managed brand might not be able to accommodate the darker, trickier elements of del Toro's storytelling. He probably is a good fit for the studio, and I'm dying to pick out his influence on the films he'll consult on, which starts as soon as this November's Megamind. If he can save Puss in Boots, a spinoff from the exhausted Shrek franchise, we'll truly know he is a genius.
Del Toro talked a lot to THR about his career, his interest in DreamWorks Animation after How To Train Your Dragon and even how he manages to work on so much at the same time; the article is well worth a read. I'll now spend the rest of the day imaging Tim Burton peering out from inside his novelty Mickey Mouse-shaped cage, counting his Alice in Wonderland cash and silently wondering how everything went so wrong.
Staff Writer at CinemaBlend
Your Daily Blend of Entertainment News
Thank you for signing up to CinemaBlend. You will receive a verification email shortly.
There was a problem. Please refresh the page and try again.