Gyllenhaal In Shazam! Debunked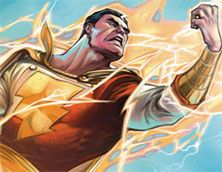 Some days, I almost feel like I should stop reporting movie news altogether. Seriously, lately everyone gets it wrong. It's not the reporting of rumors that bothers me, it's the reporting of rumors as if they're facts. We get the occasional rumor scoop here at CB, but when we do, we make sure we tell all of you what you're getting into. We don't try to sell speculation as honest to god, confirmed truth. Lately, it's starting to seem like we're just about the only ones.
For instance last week we told you about a story in the New York Daily News which claimed that Jake Gyllenhaal was being pursued to star as Captain Marvel in the newly announced movie version of Shazam!, being written by John August. Well now August has chimed in on the Daily News' report, and he says they're full of crap.
In a statement released on his official site August has this to say: "According to the internet, Jake Gyllenhaal is playing Captain Marvel. I'll be sure to let the studio, producers, and director know." After a rather funny rant in which he tries to track how a rumor like this could have gotten started, he adds: "But the thing is, he's not considering. I can pretty much assure you he's never heard of the project. And we've never discussed him. We've never seriously discussed anyone.After several months of meetings, casting has come up exactly zero times. There's no casting list. If there were a list, Gyllenhaal's name would probably be on it, but trust me: there is no list. There's no start date, no release date, no movie whatsoever. There's just a script to be written. Which I should probably get back to."
Your Daily Blend of Entertainment News
Thank you for signing up to CinemaBlend. You will receive a verification email shortly.
There was a problem. Please refresh the page and try again.