Harrison Ford Will Play Wyatt Earp In A Battle Against Al Capone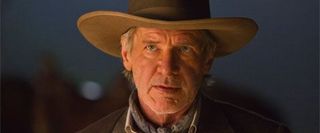 Cowboys & Aliens seems to have re-invigorated Harrison Ford's passion for making movies people might actually want to see, cowboy movies in particular. After he's done promoting Jon Favreau's flick he's putting on a different hat, growing out a mustache, and playing Wyatt Earp.
THR says Ford has signed up to play the iconic lawman in Black Hats, a movie adaptation of a novel by Max Allan Collins. The book's full title is "Black Hats: A Novel of Wyatt Earp" and it follows a now much aged and past his prime 70-year-old Earp working not as the sheriff of a small western town, but as a private investigator in 1920s Los Angeles. That may seem strange to anyone used to seeing the character as a cowboy in Hollywood movies, but it's actually true to the life of the real Earp. He lived to a ripe old age and in his later years really did end up in Los Angeles solving crimes and working as a movie consultant during the early 1900s.
The book and by extension the movie will blend elements of Earp's real life with a fictional story in which he's hired by the son of Doc Holiday for a case which gets him embroiled with the likes of Al Capone. Earp ends up in New York City, where he teams up with legendary old west figure Bat Masterson, who is now a sportswriter for the New York Morning Telegraph.
The script for the movie version of Black Hats was written by Kurt Johnstad, co-writer of 300. Presumably he's aware that Harrison Ford is now too old to run around with his shirt off. As long Harrison stays clothed, this seems like a brilliant little movie premise and a great vehicle for Ford, who's been too long absent from the Hollywood blockbuster game. It's good to have him back.
Your Daily Blend of Entertainment News