Harry Potter: Deathly Hallows 2 Destroys Twilight Box Office, Biggest Single Day Ever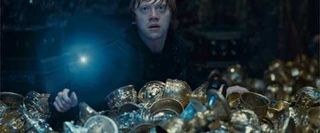 The Harry Potter movies have, of course, always done really well at the box office. Cumulatively the franchise has made more money than any other movie franchise in history, but individually… they've never been record breakers. The Harry Potter films usually end up as the second or third highest grossing movie of the year, they usually end up near the top but not quite at the top of all the big box office charts. Not this time.
Harry Potter and the Deathly Hallows – Part 2 isn't just breaking records, it's breaking every record. It already holds the record for biggest midnight screening earner of all time and now it's the biggest single day earner of all time too. On Friday Deathly Hallows – Part 2 made $92 million. That's right, $92 million in just one day. It blows away the previous record held by The Twilight Saga: New Moon which had a $72 million single day total. It made that money on 11,000 screens in 4,375 locations. Many of those were in 3D, which probably helped buoy its totals with those inflated 3D surcharges being tacked on to so many tickets.
Let's really put this in perspective. The top earner of 2011 so far has been Transformers: Dark of the Moon which made $97 million over the course if its 3-day opening weekend. Deathly Hallows 2 made that in a single day. And it's not done. By the time the weekend's over the last Harry Potter will almost certainly have earned more than $150 million, and that's just domestically.
Deathly Hallows 2 has the record for biggest opening weekend of all time in its sights. That's currently held by The Dark Knight which made $158 million over the course if it's three-day opening weekend back in 2008. The most any Harry Potter movie has ever earned over its opening was the $125 million Deathly Hallows 1 made last year. That's about to be blown out of the water.
Harry Potter is going out in a big way, and stands a very real chance of ending up as the biggest movie of all time. Seems like the right way to cap off the biggest movie franchise of all time, to me.
Your Daily Blend of Entertainment News