Harry Potter's Richard Griffiths Dies At 65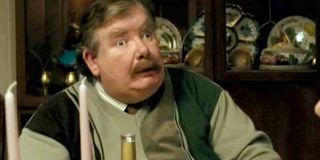 Richard Griffiths, famous to audiences around the world as Harry Potter's ghastly Uncle Vernon Dursley, has died at the age of 65. His part in the Harry Potter franchise, like it was for so many great British actors, was just a capstone on a long and hugely varied career, including a stint opposite Harry Potter himself, Daniel Radcliffe, in Equus onstage. Radcliffe paid tribute to Griffiths in a statement to The Guardian:
Griffiths was also known to fans of the 1987 British comedy Withanil & I, playing the flamboyantly gay Uncle Monty. Since you've surely already seen his work as Uncle Vernon, check out this clip of his riotous work in Withnail:
He trained with the Royal Shakespeare Company and acted in theater throughout his career, winning a Tony Award and a slew of other prizes in 2006 for his performance as the teacher in The History Boys (a role he reprised for the film). His IMDB page, under "trivia," recounts what happened during the Broadway production when an audience member's cell phone went off:
Griffiths was a unique, instantly recognizable and unfailingly memorable screen presence. He is gone too soon, and he will be missed.
Staff Writer at CinemaBlend
Your Daily Blend of Entertainment News
Thank you for signing up to CinemaBlend. You will receive a verification email shortly.
There was a problem. Please refresh the page and try again.